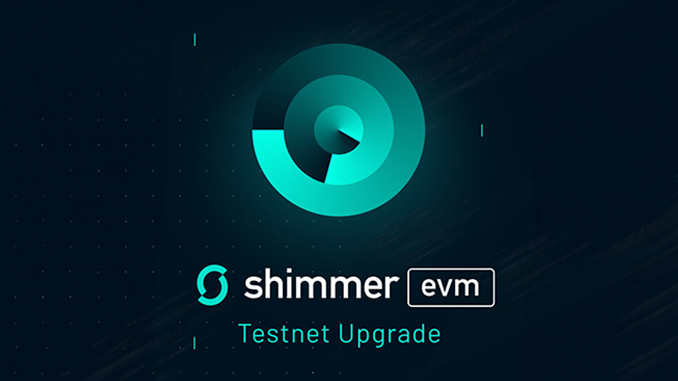 The IOTA side project Shimmer (SMR) still has to wait for the integration of the Ethereum Virtual Machine (EVM). However, the project manager holds out the prospect of a closed testing phase soon.
Shimmer (SMR) has been live for just under a year, and the IOTA side project is intended to lead the technological advancement in the ecosystem. The first step is the integration of the Ethereum Virtual Machine (EVM), which would make smart contracts possible with Shimmer. Most recently, the launch of the EVM was envisaged for October – but the date will not be kept, as can be seen from the latest update on the situation, which IOTA foundation head Dominik Schiener spreads on X (formerly Twitter).
There, project manager Dave de Fijter writes that there had been delays in testing and bug fixing for the EVM on Shimmer over the summer. Now all major difficulties have been identified in cooperation with external projects that want to use Shimmer EVM. They plan to release a closed testing phase "shortly," de Fijter said. The public launch of Shimmer EVM should then take place "a few weeks" later, he said. Experience with IOTA timelines suggests: there are chances that the long-awaited launch of Shimmer's EVM will happen this year.
EVM has established itself as a standard module for organizing smart contracts in the crypto industry, and integration has been on IOTA's to-do list for some time. Now that Shimmer will be first with EVM, IOTA itself is not expected to launch until 2024. In the comments on the new water status report, mockery about the recurring delays mixes with praise for an imminent breakthrough.
Bottom line: EVM is closing in – Shimmer up 9 percent.
SMR's price curve benefited from the news on progress in the integration of EVM, making a price jump of plus 9 percent. Quoting at just under $0.06, Shimmer is roughly where it was when it debuted on the stock market in September 2022. The IOTA community is hoping that with EVM, external projects from divisions such as Decentralized Finance (DeFi) and blockchain gaming will dock with Shimmer. Skeptics note that EVM is already enabled on more than 100 cryptocurrencies and there is not necessarily a need for more alternatives like Shimmer. It remains to be seen when practice will show whether Shimmer succeeds with EVM in more than just a respect success.
---