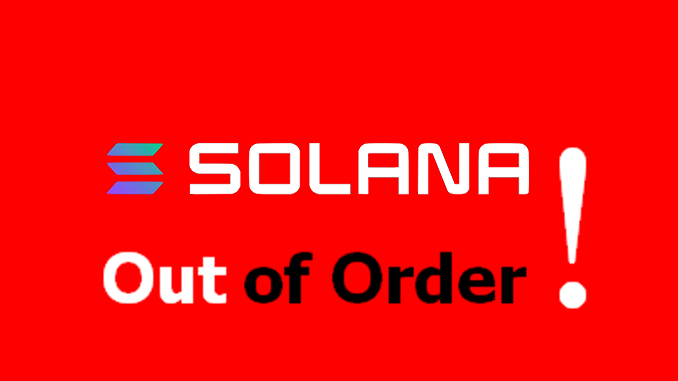 For the umpteenth time, Solana (SOL) is struggling with an overloaded network – for around 48 hours over the weekend. For crypto traders, this had sometimes dire consequences.
Trust in Solana (SOL) is at risk: once again, the network was overwhelmed with orders, leading to noticeable problems with timely processing. Officially, Solana spoke via Twitter of "heavy congestion" on the mainnet. Traders, meanwhile, reported 48 hours over the weekend in which actions based on SOL were delayed or not processed at all. In the meantime, Solana claims to have got the problems under control with an update to the software for network points (nodes).
But this is not the first time that Solana's ecosystem has been shown its limits under heavy load. In September, SOL's network was even forced to come to a total standstill and only a reboot could defuse the situation. Shorter outages have nevertheless occurred more frequently since then. Crypto author Mark Jeffrey even counts six outages at Solana in the last quarter on Twittter.
This time, the emergency occurred when crypto markets were in a tailspin. Solana investors were unable to exchange their holdings in SOL for stablecoins in some cases amid the dynamic situation, the NFT division also suffered from gridlock , DeFi under Solana slowed down noticeably and liquidations occurred because agreed payments did not arrive. Jeffrey was not alone in judging that Solana no longer deserved trust under these circumstances.
Technical problems at Solana hurt SOL price curve
As a result of the trends in the overall market plus the specific Solana issue, SOL has lost about 45 percent of its value since Friday, from levels around $140 the price has crashed to around $86 currently. The altcoin, which was spoiled for success in 2021, is swirling into a crisis; the stability and speed of the network advertised by Solana has not been fulfilled in practice just when many investors wanted to act quickly.
Conclusion: Solana needs crisis-proof update
In its initial analysis, Solana also blames bots for driving up the number of transactions. In the complete outage in September, a DoS attack is said to have been the originator. In any case, Solana's mainnet reacts to high load with unreliability. Solana tries to appease and announces updates for the next eight to twelve weeks to get the difficulties under control. Whether this is not in time to reassure Solana users is as open as the question of whether the promised improvements will work sustainably.
---
Best place to buy Bitcoin and Solana (SOL):