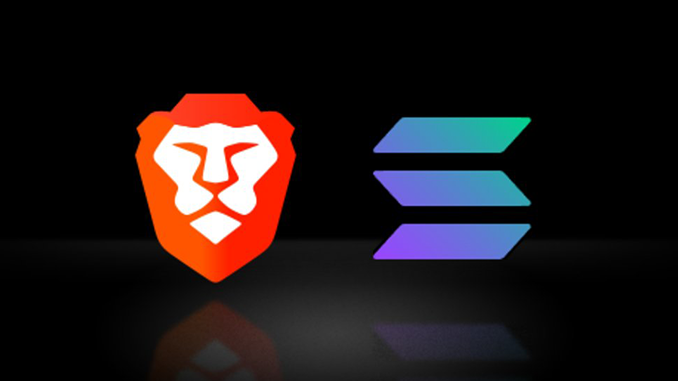 The Brave web browser has been steadily gaining followers since its launch in 2019 because it pays out Basic Attention Tokens (BAT) for consuming online advertising. Now, technological cooperation has been agreed with Solana (SOL).
After teething problems, the concept of Brave has found more and more users, currently 42 million people are said to actively use the web browser of a special kind. Brave from Basic Attention Token (BAT) scores with the special feature of having built up an advertising network, where most of the revenues flow back to the advertising audience in BAT. In addition, Brave promises private surfing and blocks tracking. Now, via announcement, Brave has announced a collaboration with Solana (SOL) that sounds attractive to both parties.
Brave wants to integrate functionalities of Solana's blockchain directly into its browsers, making SOL's ecosystem easily accessible through the browser. Solana, in turn, will promote among its developers to also consider Basic Attention tokens for projects. A new wallet for Brave and Solana has been announced for the first half of 2022. By then at the latest, SOLs should be able to be sent and exchanged via Brave, and the wallet should also be ready for NFTs under Solana. With this, Brave is at least partially saying goodbye to the Ethereum (ETH) ecosystem, where it seemed to be firmly anchored with BAT as an ERC-20 token until now. However, the high transaction fees on ETH and congestion on the Ethereum blockchain seem to have prompted a rethink. In any case, Brave clearly highlights Solana's advantages in these fields.
BAT's price curve temporarily shot up by 30 percent after the announcement, and Solana's radiance is rubbing off positively. The price of SOL, meanwhile, initially remained at the new record levels reached only a week ago. Since, from Solana's point of view, the cooperation with Brave and Basic Attention Token is only one among many, the restraint is understandable. For Brave and BAT, on the other hand, the move towards Solana is a fundamental one that could significantly boost their popularity.
Conclusion: Web browser 3.0 – Brave, Basis Attention Token and Solana with big plans
In March 2020, Brave had still integrated Binance to simplify crypto trading. Now, Solana is likely to come to the fore in browsing with Brave and, like BAT, demonstrate new use cases, especially with decentralized apps (DApps). It's not for nothing that those involved talk about the "Web3 experience" that will be achieved. If Brave succeeds in continuing to attract massive new users, this could also do lasting good for BAT's price curve.
---
Open a Binance Account here and save 10% on fees for a lifetime.