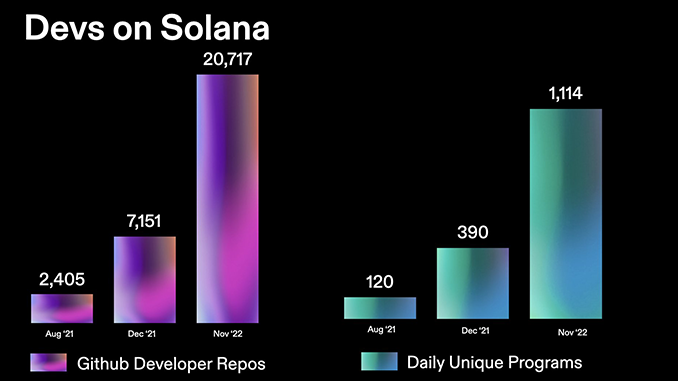 Solana (SOL), like other altcoins, had set out to use multi-million dollar funds to support developers who want to bring their projects into the ecosystem. But the plan has stalled.
Solana continues to suffer from the aftermath of the FTX crash, and its close ties to Sam Bankman-Fried's declining crypto empire have caused SOL's price curve to plummet. But the team and foundation behind Solana assert that their funding is independently secured. It is somewhat irritating, then, when co-founder Anatoly Yakovenko reveals in an interview that developer funds raised last year are being distributed much more slowly than expected.
A $100 million social media fund and a $150 million blockchain gaming fund had been touted for the 2021 Solana conference. In doing so, the Solana Foundation had secured financial support from crypto venture capital and planned to distribute the funds to suitable projects within 18 months. But now, a year later, Yakovenko said, of the social media fund, not even close to half of the $100 million has been disbursed, and at the blockchain gaming fund, giant sums are also still available. According to Yakovenko, smaller amounts of around US$100,000 are being transferred to individual projects, but big throws are missing.
Yakovenko did not comment further on the background, such as whether proposed projects fall short of expectations in terms of quality or there are sudden thank yous from funders. He goes on to call out the next goal of having more than a million people using Solana in the social networking and blockchain gaming divisions. With projects like Dispatch, Squads, Dialect and Wordcel in SOL's ecosystem, he says the company already has decentralized alternatives to services Reddit, WhatsApp and Twitter in the pipeline. In the area of gaming, Yakovenko points to nearly 40 online games that are either already live or about to be launched with Solana as the technological basis.
Conclusion: Proximity to FTX causes problems for Solana
The Solana Foundation has emphasized that it has not invested any funds with FTX or linked companies such as Alameda Research. But the slump in SOL's price curve was anyway more due to the fact that FTX and Alameda Research hold large shares of their reserves in Solana and a sell-off is looming. In such uncertain mood, one can understand developers who prefer to devote their time to competing ecosystem like Ethereum (ETH) or Binance Coin (BNB). But the competition also proves that Solana cannot afford to stand still.
---