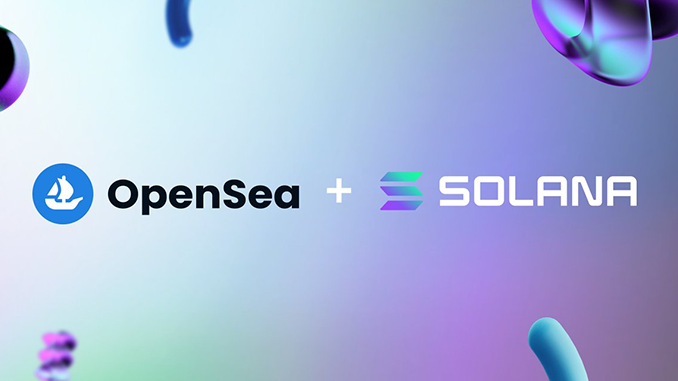 OpenSea, the market leader among trading venues for NFTs, is now also integrating Solana (SOL) into its platform. This could make Solana NFTs attractive to a wider audience than before.
Creative NFTs (non-fungible tokens) remain trending topics in the crypto industry; as recently as February, the OpenSea trading platform reported record volumes of more than $5 billion for the previous month. Until now, however, OpenSea's business has been limited to NFTs with Ethereum (ETH) and Polygon (MATIC). Now, OpenSea is opening up to Solana (SOL) as well. In the current beta phase for Solana on OpenSea, 165 collections are initially presented, it says on Twitter. Manual searches on OpenSea now find nearly 900,000 NFTs that are technologically based on SOL.
At launch, users complained about delays and similar problems in handling and trading Solana NFTs on OpenSea. The reason for this is likely to be technological limitations in SOL's blockchain; they had already come to light several times in recent months. Solana co-founder Anatoly Yakavenko promised via Twitter that solutions are being worked on at full speed to make SOL stable even under high network load.
With Solana at OpenSea come well-known projects such as Solana Monkey Business, DeGods, Degenerate Ape Academy, Shadowy Super Coder and Aurory. Until now, Magic Eden was considered the main trading place for Solana NFTs, as this platform started early with SOL and did not care about other ecosystems. However, Magic Eden is now looking to rethink this stance as it is expected to see an exodus of customers to OpenSea. Data on the first few days of trading for Solana on Opensea shows subdued interest, with Solana achieving only fractions compared to trading on Ethereum. However, it is difficult to assess how much technical glitches are hindering SOL.
Bottom line: network issues are hindering Solana NFTs on OpenSea as well.
Today, Monday, Magic Eden warns again on its home page that bottlenecks in the network of Solana (SOL) currently increase the risk of failed NFT auctions. The situation appears to be similar to that at OpenSea. For example, the NFT line of business remains promising for Solana, but is constrained by technological problems. Here, developers need to find solutions so that Solana NFTs can further establish themselves in the market. OpenSea has probably rightly preferred to talk about a beta version for the new Solana division for the time being.
---
Best place to buy Bitcoin and Solana (SOL):