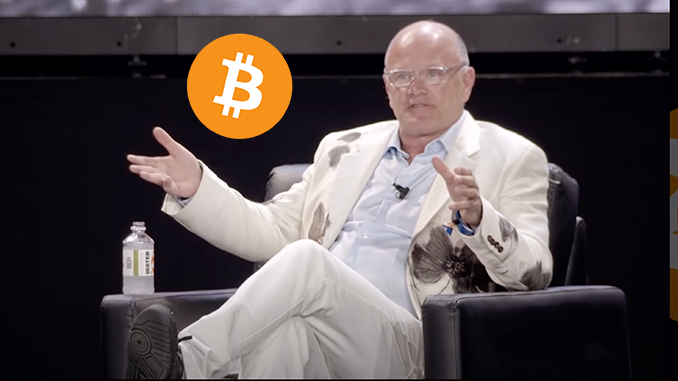 The annual Bitcoin conference has come to an end in Miami. At the world's most important industry meeting, crypto billionaire Mike Novogratz spread optimism with forecasts of 500,000 US dollars per Bitcoin.
When the crypto scene meets once a year in Miami for the Bitcoin Conference, positive news is expected. In 2021, the president of El Salvador, Nayib Bukele, surprised everyone by announcing that his country would make Bitcoin (BTC) legal tender. In 2022, the Miami Bitcoin Conference lacked such a coup, rumors of Apple getting into acceptance and investment towards cryptocurrencies did not materialize. But at least crypto billionaire Mike Novogratz used the stage to spread good vibes with optimistic price forecasts for Bitcoin.
500,000 US dollars per Bitcoin is a realistic price target in the medium term until 2027, says Novogratz, and even the magic level of 1 million US dollars per BTC is not automatically a pipe dream. Bitcoin is currently trading at just over 42,000 U.S. dollars and was unable to gain any new momentum from the conference in Miami. For the near future, Novogratz sees positive momentum for BTC when the U.S. Federal Reserve resumes its loose monetary policy. "Bitcoin goes to the Moon," Novogratz says, echoing a popular phrase from the crypto scene. Bitcoin proves its plus points in uncertain times, he says, and one of them is its independence from central banks.
The 57-year-old has been investing in Bitcoin in a concentrated way since the mid-2010s and has made a fortune with it, according to his own statements. In his main job, Novogratz is CEO of the investment bank Galaxy Digital, which also focuses on Bitcoin and Co. With this experience, Novogratz predicts, as do other observers, that the real boom in institutional investments in Bitcoin is yet to come. Accordingly, pension funds and similar well-filled coffers are only slowly beginning to shift investments toward BTC. Significant capital inflow is expected from there.
Conclusion: Professional traders recommend patience with Bitcoin
In 2022, Bitcoin's price curve remains mixed. With regard to the Bitcoin conference, for example, criticism of domestic political realities has increasingly taken its place in the assessment of the quickly hyped El Salvador. 500,000 US dollars per Bitcoin sounds quite ambitious from today's perspective, but Mike Novogratz is referring to five years in the future. Whether his forecast will still hold true then remains to be seen. But it seems exemplary for the optimism cultivated in crypto circles, which considers a crash of the market to be unlikely. In January, Bitcoin Whales had understood a price level of 40,000 US dollars as a call to buy more.
---
Best place to buy Bitcoin: