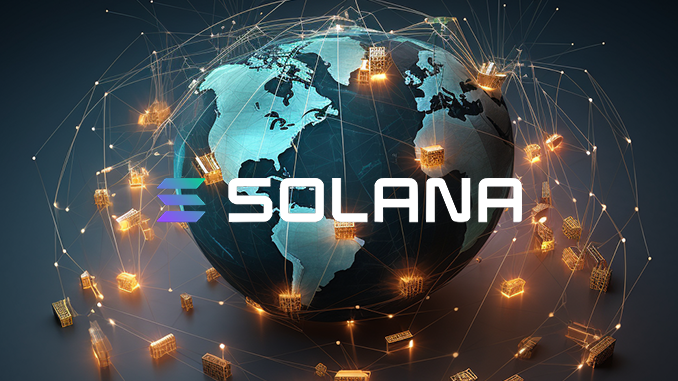 On Tuesday, credit card giant Visa announced it would expand its crypto division, using Solana's blockchain as a foundation. In hindsight, experts find Visa's move remarkable.
Just over two years ago, credit card company Visa first opened doors towards the crypto industry by integrating the stablecoin USDC as a payment method. This Tuesday, Visa made public via press release to ignite stage two in its crypto program. It was particularly noticeable that Solana's blockchain (SOL) is prominently mentioned and plays a fundamental role in Visa's plans.
However, those who had hoped that this would also have a positive impact on Solana's price curve were wrong. Temporary gains for SOL after the news from Visa corrected within 24 hours, and over the week Solana is actually down about 5 percent. That's because Visa is indeed integrating a connection to the Solana ecosystem, but it's limited to stablecoins like USDC for now and doesn't include SOL. Solana co-founder Anatoly Yakovenko nevertheless writes on X (formerly Twitter) that they now have the chance to prove that Visa can save money with Solana and also make speed advances.
Visa has also identified international transactions as an important use case for USDC. In Australia, the pilot program has proven successful since 2021, he said, and it should now be rolled out more broadly. Merchants who accept Visa credit cards can get paid with USDC and have their money credited in seconds with no exchange fees. For traditional cross-border transactions, Visa acts as a clearinghouse, which will no longer be necessary for crypto transfers. Jeremy Allaire, co-founder of USDC, already foresees a future for the stablecoin, which is pegged 1:1 to the U.S. dollar, as a "native Internet dollar," as he writes on X.
Conclusion: Visa commits to USDC and Solana
Visa has named payment service providers Worldpay and Nuvei as new collaborative partners alongside Solana, citing their importance to NFT marketplaces and blockchain gaming. Solana co-founder Raj Gokal, meanwhile, spoke of a "next chapter for digital payments innovation" in an interview. Solana has most recently been able to integrate its own payment service Pay with Shopify, but the image gain from the collaboration with Visa is likely to be disproportionately higher. Whether the linking of the Solana Blockchain with the Visa networks will also have positive effects for SOL in the medium term remains to be seen.
---