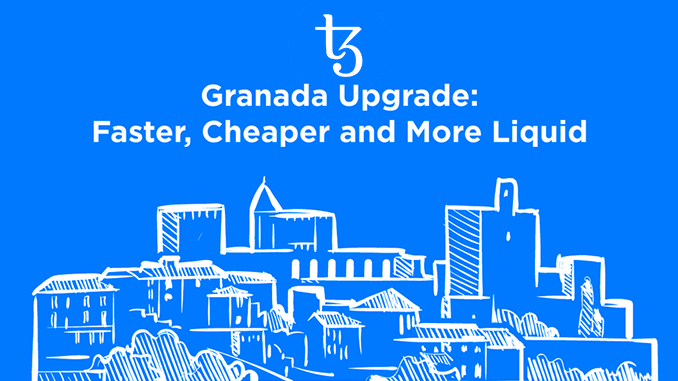 In a currently stagnant overall crypto market, Tezos (XTZ) and Cosmos (ATOM) can break out positively with price gains. There are tangible reasons behind their success.
When Bitcoin (BTC) and Ethereum (ETH) are treading water in their price curves, as they have been in recent days, it is usually worth looking at the second tier of altcoins to realize profit opportunities. Over the weekend, for example, it was Tezos (XTZ) and Cosmos (ATOM) that bucked the trends and scored with price gains. Tezos has gained nearly 50 percent in the last seven days and Cosmos has nearly doubled its price value over the last 30 days. XTZ and ATOM can benefit from positive news:
Tezos was pleased to announce the Granada technology update to its blockchain in early August, which reduces transaction fees and halves the average wait time to validate transactions. This important advancement at XTZ may have helped with Tezos' recent move toward traditional banking. In Switzerland, the commercial bank InCore reports that it has selected Tezos as the basis for new offerings. In cooperation with Crypto Finance AG and the consulting service Inact, InCore now wants to bring Tezos smart contracts and individual tokens into the banking business. This underscores Tezos' technological edge and willingness to reach out beyond the crypto industry.
At Cosmos, on the other hand, it is the DeFi division that is behind the price gains. In mid-August, it launched the beta version of its decentralized crypto exchange (DEX) Gravity, which relies on technology from ATOM. And a little later, the blockchain of Cosmos was successfully linked to that of Ethereum via a bridge. So investors can now conveniently use both ecosystems, which significantly expands the use cases of Cosmos and ATOM.
Conclusion: altcoins with potential – Tezos and Cosmos.
XTZ had already seen its first price rally in June and Tezos is increasingly fulfilling its promises of technological advancement. With Cosmos, too, it is work in the engine room that is giving wings to ATOM. Thus, the two altcoins are good examples of why it pays for investors to pay attention to roadmaps and their implementation to anticipate price gains.
Cardano (ADA), for example, is due to upgrade Alonzo in September. If you do not only focus on the leading currencies Bitcoin and Ethereum, you will definitely find alternatives among capital-strong cryptocurrencies that temporarily demonstrate their own dynamics in the price curves.
---
Best place to buy Bitcoin, Tezos and Compound: