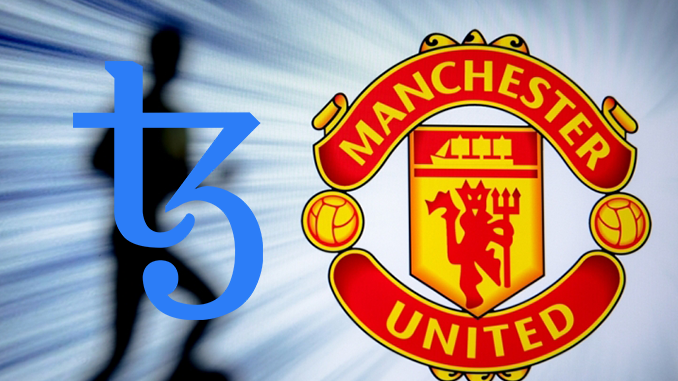 The English record champion Manchester United gets a major sponsor from the crypto industry with Tezos (XTZ). In the process, 20 million pounds per year will flow. Tezos is already prominently involved in other sports.
Tezos (XTZ) and the world-famous soccer club Manchester United have signed a spectacular deal: Tezos will become a major sponsor for 20 million pounds (23.7 million euros) a year, as the sports magazine "The Athletic" exclusively reports. Part of the deal is that Tezos will take over the most prominent advertising space on Manchester United's jerseys. The two contracting parties have so far declined to comment on the report, but have not denied it either.
Manchester United had been looking for a main sponsor since last summer, because the previous agreement with the U.S. insurance company Aon expired. There, 120 million pounds are said to have flowed for eight years. Tezos, in turn, has already joined Formula 1 as a sponsor in 2021, where it supports Red Bull Racing. Tezos is also visible in U.S. baseball as a sponsor of the New York Mets, and in e-sports it has won the French team Vitality as a partner.
Tezos is not alone in its approaches to professional sports. Crypto exchange FTX, for example, pays a good $20 million a year to generate exposure with e-sports team TSM. Fan tokens like Manchester City (CITY) at Manchester United's city rival are spreading fast, and in the NBA the blockchain game Top Shots has become popular.
In the European market, however, soccer is the name of the game and Manchester United is a flagship. With German coach Ralf Rangnick, the aim is to build on old successes, and on and off the pitch, superstar Cristiano Ronaldo in a Manchester United jersey provides glamour. The tradition-conscious fans are extremely critical of sponsors and the club is said to have thoroughly investigated Tezos before the deal was given the green light. Tezos is likely to initially gain image and attention through Manchester United, and more far-reaching joint projects such as a fan token or blockchain games do not seem out of the question.
Conclusion: German professional sports are unfamiliar with the crypto industry
In the Bundesliga and other German professional leagues, people often look enviously at other countries, where budgets make those of here look small. But on the other hand, Manchester United's approach shows where opportunities lie to find new financially strong sponsors. To put it bluntly, the money is still loose in the crypto industry, and not just at Tezos, and it's hard to understand why German professional sports have so far largely closed their minds to these options.
---
Best place to buy Bitcoin or Tezos (XTZ):