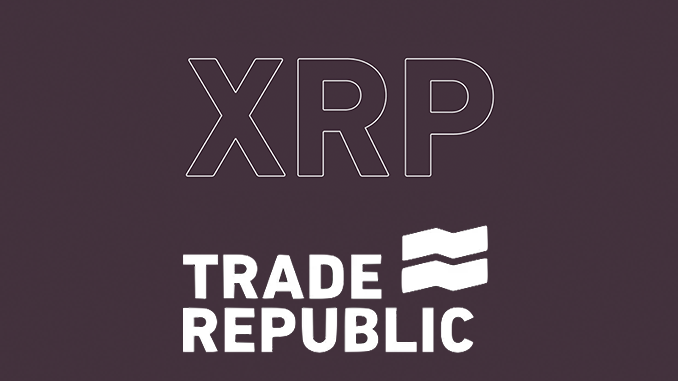 At the online broker Trade Republic, the crypto division is being expanded. New in the offer are now Ripple (XRP), Stellar (XLM) and EOS. Thus, Trade Republic now lists seven cryptocurrencies.
The German trading platform Trade Republic has already responded to customer requests a few weeks ago with a web version as an alternative to the apps. Now Trade Republic is also expanding the previously somewhat neglected crypto division. Via Twitter, Trade Republic announces that it now also offers Ripple (XRP), EOS and Stellar (XLM):
– Ripple (XRP) is among the oldest and most well-known cryptocurrencies in the world. Ripple's focus is on using XRP as a bridge currency to process international money transfers in real time and at low fees. XRP's users include various international FinTechs and banks. But Ripple has a Securities and Exchange Commission (SEC) case on its hands in the U.S. and is therefore no longer listed there by many crypto exchanges. In this respect, XRP at Trade Republic is also a commitment to the crypto industry.
– Stellar (XLM) is similar in content to XRP and cooperates closely with FinTechs and banks in the area of cross-border transfers. Piquantly, Jed MacCaleb, one of the former Ripple co-founders, is wielding the scepter at Stellar. Stellar seems to be benefiting from the current weakness of Ripple and is continuously expanding its customer base and offering.
– EOS focuses on the topic of DApps, which map a wide range of services from gambling to Decentralized Finances (DeFi). Its own crypto exchange called Bullish is also in development under EOS.
Trade Republic calls its offering "Crypto Universe." So far, it has listed Bitcoin (BTC) and Ethereum (ETH), the two most important global cryptocurrencies, as well as Litecoin (LTC) and Bitcoin Cash (BCH), two popular imitators. At Trade Republic, their buys and sells "real" coins that are securely held by a counterparty. For the time being, the offer is only valid for customers residing in Germany, but otherwise Trade Republic's low fees and high reliability make it a good alternative to pure crypto exchanges.
Conclusion: Crypto on the rise at Trade Republic
Trade Republic scores with the concept of making a variety of different asset classes easily tradable under one roof. For example, you can also invest in stocks, commodities and ETFs there. With the actually already overdue expansion of the crypto portfolio, Trade Republic is becoming more attractive; Ripple, EOS and Stellar are exciting altcoins. Hopefully, Trade Republic will make even more altcoins available in the future, similar to its competitors.