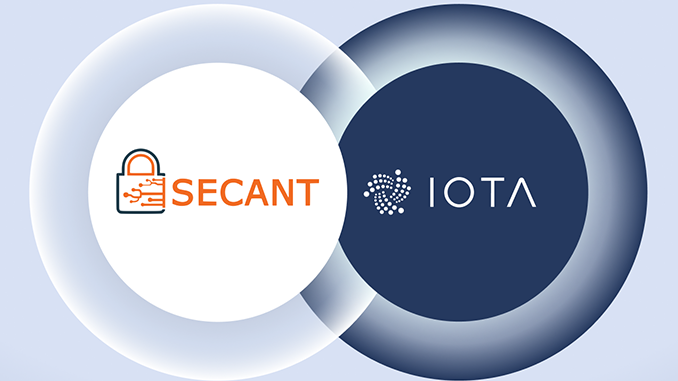 The IOTA Foundation is pleased to participate in the EU project SECANT, contributing technology and expertise for cybersecurity specifically in healthcare. The job is endowed with 535,000 euros until 2024.
IOTA regularly receives recognition in the context of EU projects, for example in Smart Cities IOTA is recognized as a "Key Innovator". Now the IOTA Foundation has announced another effort for the EU via blog post. SECANT (Security and Privacy Protection in Internet of Things Devices) will pull strings across the EU when it comes to protecting healthcare systems from online attacks and documenting data securely. For the time being, a good 5 million euros are available for SECANT until 2024, of which 535,000 euros will go to the IOTA Foundation.
IOTA is initially to organize the shared database at SECANT. The idea is that, on the one hand, doctors, hospitals and other points of care can record information about patients and, if necessary, make it available to colleagues in compliance with the law. IOTA wants to incorporate its IOTA Identity module here, which is already being tested in banking in the Netherlands. IOTA Identity could also be used to document supply chains of medical equipment and drugs. IOTA Streams will also propose a type of messenger for machines and personnel to exchange sensitive data in a secure environment at SECANT.
The IOTA Foundation puts the average damage caused by cyberattacks on the healthcare system at at least $7 million. The number of attacks is rising, it said. In Germany, this brings to mind paralyzed computer systems in hospitals that dangerously disrupt daily operations. SECANT also aims to provide the industry with software to improve online defences and remain able to act in the event of an incident. SECANT is part of the EU's large-scale Horizon 2020 program, which is driving industry-specific digital transformation and creating EU solutions as alternatives to commercial offerings from the US.
Conclusion: IOTA establishes itself as EU service provider
While the sums mentioned at SECANT for the IOTA Foundation are only a small item, more important is the chance to demonstrate practicality. Because what remains clear is: The EU wants to create common databases and online networks, and wherever this happens, IOTA also senses the opportunity to establish its technology. However, IOTA as a payment medium is not in the concept and effects on the price curve of IOTA can be expected at best indirectly and in the medium term. In the longer term, reference cases such as SECANT may be the door towards recognition as a standard for IOTA and an area where the question of decentralized IOTA 2.0 is not as pressing as in the crypto industry itself.
---
Best place to buy Bitcoin and IOTA: