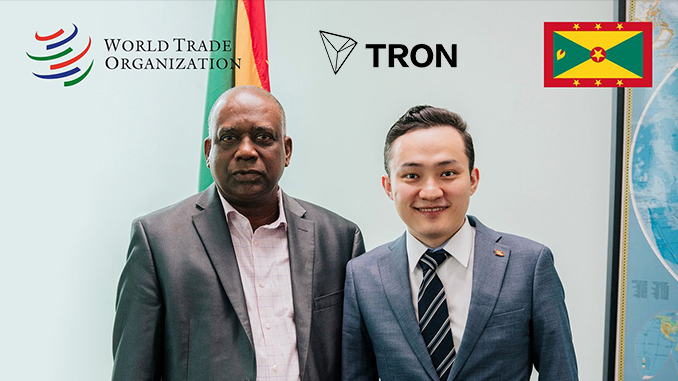 Career change for TRON founder Justin Sun: The 31-year-old will represent the island nation of Grenada as ambassador to the World Trade Organization (WTO). Sun is retiring from TRON (TRX).
Justin Sun is known in the crypto industry as a colorful dog and now adds another unusual chapter to his resume: Via Twitter Sun proudly announced to have received invitation and appointment from the government of Grenada to serve as permanent ambassador to the WTO (World Trade Organization). So while Justin Sun now prepares for life in Geneva, headquarters of the WTO, the TRON (TRX) he founded will have to do without the 31-year-old. In an open letter, Sun writes that TRON and its ecosystem have achieved decentralization and that he may therefore retire.
One can speculate about the motivations for Sun's interest in diplomacy. Sun himself states that he wants to help Grenada overcome the economic consequences of the Covid pandemic. He also says he will promote blockchain solutions at the WTO. As far as is known, Jun's new position is unpaid. At least Sun can now be addressed as "Excellency," the title he is now diplomatically entitled to. This also comes with diplomatic immunity. Commentators in Grenada's media suspect that Sun was concerned about this status. Resentment is also spreading because Sun was born in China and people wonder why no native Grenadian was chosen for the post.
From TRON to WTO – Justin Sun's eventful past
Sun had led TRON (TRX) from 2017 and later established another altcoin, BitTorrent Token (BTT). His leadership style repeatedly ignited criticism, with former employees accusing him of untruths and insults. Sun has always denied such accusations.
Justin Sun's loose handling of money is documented. For a dinner with investor legend Warren Buffett, Sun spent a good 4.5 million US dollars, which, however, went to charity. At the spectacular auction of an NFT artwork, Sun offered 60 million US dollars and later complained that he had not won the bid because of unclear rules.
Incidents in Sun's home country of China have not been fully clarified. There, TRON came under accusations of fraud, and Sun later apologized under convoluted circumstances. TRON and Sun also came under fire when Steem was taken over, because they allegedly did not respect the community enough.
Conclusion: New tasks for Justin Sun – diplomacy instead of TRON
Anyone who has followed Sun's career might well doubt that he was born with diplomatic skills such as a willingness to compromise. Grenada, with a population of just over 110,000, is also a small country whose importance at the WTO hangs correspondingly low. It remains to be seen whether Sun will nevertheless be able to promote his heartfelt crypto issue at the WTO. TRON's share price reacted to Sun's withdrawal with losses of around 10 percent. Investors would probably have preferred to keep the enterprising founder on board at the TRON Foundation.
---
Best place to buy Bitcoin and TRON (TRX):