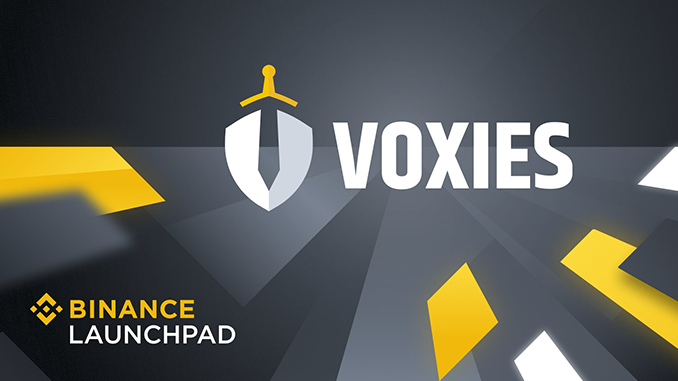 Binance Launchpad is organizing the IEO for the game token Voxies (VOXEL). From experience, the initial public sales at Binance Launchpad offer early investors very good profit opportunities.
With Voxies (VOXEL), Binance Launchpad currently has the IEO of a game token in its program and is thus fully in line with the trend. Voxies is advertised as a tactical role-playing game that uses VOXEL as a native currency for payment. Binance Launchpad's recent IEOs have usually seen 1,000 percent plus or more for those who strike on the initial sale. To get VOXEL on Binance Launchpad, you'll need to deposit Binance Coin (BNB) there as of now.
Until December 14, Binance will then individually count how many BNB were reserved for Launchpad on average based on hourly snapshots. Depending on this, voxies will be sold to IEO participants on December 14 at a fixed price of 0.20 US dollars per VOXEL, settled in BNB at the daily rate. There are 30 million VOXEL available for the promotion, which is 10 percent of all Voxies. Important is the time window on December 14 at Binance Launchpad from 07:00 to 10:00 German time, in which you must pledge to also accept offered VOXEL. After the subsequent distribution, Binance will list Voxies and during the exchange debut that takes place then, in our experience, easy profit-taking is possible. This is because IEOs on Binance are consistently oversubscribed many times over and interest in coins promoted in this way is high.
Blockchain games are a growing sector of the crypto industry. Price rallies in Axie Infinity (AXS) made headlines over the summer, and most recently plans for Facebook Metaverse have sent game tokens Decentraland (MANA) and Sandbox (SAND) thick into positive territory. In Voxies, players will be able to engage in 3-D battles with avatars and earn rewards. VOXEL is the currency required to buy special equipment or exclusive characters in the game, for example. Voxies is backed by a team of experienced developers from the computer games industry.
Conclusion: Voxies (VOXEL) at Binance Launchpad – participate now
It has long been no secret in the crypto scene what profit opportunities Binance Launchpad offers. Launchpad has been established since the beginning of 2019, launching such successful altcoins as Polygon (MATIC). Now, Voxies (VOXEL) is a candidate to launch that represents the blockchain games theme and will gain a lot of attention via IEO at Binance Launchpad right from the start. If you hold BNB anyway, the IEO of Voxies (VOXEL) is a promising option to make good profits with little effort.
---
Open a Binance Account here and save 10% on fees for a lifetime.