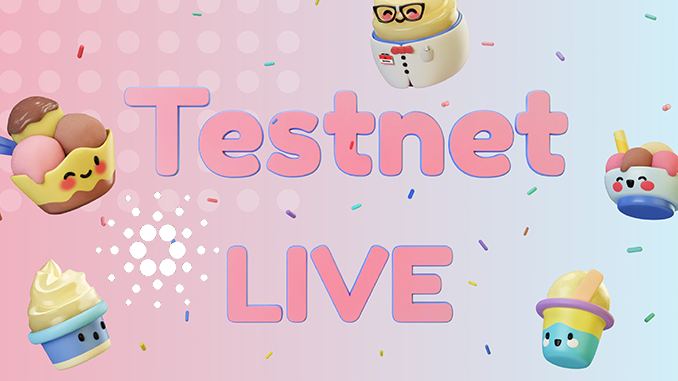 SundaeSwap is the first decentralized crypto exchange (DEX) to be tested in the Cardano (ADA) ecosystem. The project claims to have found a solution to work around the issues with smart contracts on ADA.
There has been skepticism among investors since the September 2021 Alonzo upgrade at Cardano (ADA). Alonzo made smart contracts possible at Cardano, but the hoped-for use cases, such as from the DeFi division, have been a long time coming. That's because ADA smart contracts are severely limited when it comes to settling actions with multiple parties simultaneously. Now SundaeSwap gives hope to offer a solution. Via Twitter, SundaeSwap announced that it is live on the Cardano testnet. There, test tokens can now be used to try out how SundaeSwap wants to organize the exchange of cryptocurrencies as a decentralized crypto exchange (DEX) in the future and could also accept liquidity for credit transactions.
The news was celebrated among Cardano's followers, with ADA founder Charles Hoskinson joining the ranks of well-wishers via a tweet. But SundaeSwap had to admit to problems with the test version after only a few hours, which are now to be fixed. Apparently, there were delays of one hour in some transactions. SundaeSwap emphasizes to make its project ready for a full version on the mainnet based on just such tests. A target date for the real launch of SundaeSwap has not been communicated yet.
Will Cardano succeed in taking the first step towards DeFi after all?
Smart contracts are key to DeFi use cases in the crypto industry. Automated processing of contracts eliminates middlemen and transactions can be agreed independently and cannot be manipulated. But because Cardano uses a protocol called UTXO here, difficulties arise in the fields of real-time and multiple counterparties. If SundaeSwap actually succeeds in building a technological solution on top of the existing conditions, this would be a breakthrough.
Hoskins had expected a large number of DeFi projects at Cardano in the post-upgrade Alonzo period, and was met with much derision because his prediction has not yet materialized. The ADA price curve has also trended negatively since then, which demonstrates how investors have been disappointed by the lack of ecosystem momentum at Cardano. SundaeSwap will therefore be under special scrutiny.
Conclusion: ADA senses opportunities for DeFi through SundaeSwap
DEX such as Uniswap (UNI) or Pancakeswap (CAKE) are hubs for DeFi in their respective ecosystems. Cardano lacks such a decentralized platform for DeFi, where plus points such as low transaction fees and high scalability could come into play. If SundaeSwap really does move from the test phase to regular operation, this proves the possibilities at Cardano, which are currently only conjured up in theory. ADA reacted to the news of SundaeSwap with a significant price jump of about 11 percent plus, but remains with current prices of around 1.50 US dollars far away from all-time highs at a good 3 US dollars.
---
Best place to buy Bitcoin and Cardano (ADA):