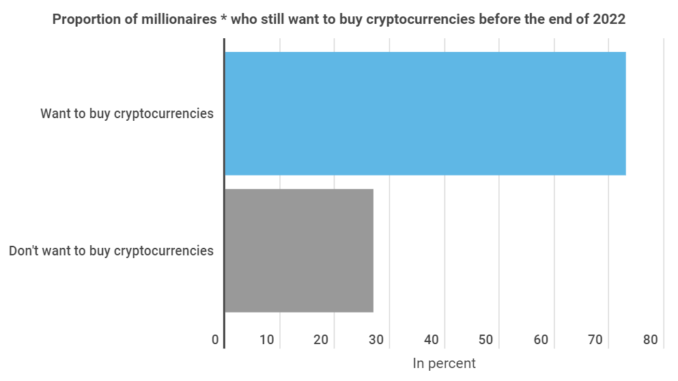 73% of millionaires intend to purchase cryptocurrencies before the end of 2022, according to a survey by the "deVere Group". In a previous survey the proportion was 68%. A new infographic from Block-Builders.de sheds light on important developments surrounding Bitcoin and the latest price rally.
While millionaires appear more and more open-minded about cryptocurrencies, fewer and fewer German citizens are using digital currencies. In 2017 the user share was 11%, but this this has now shrunk to 4%.
Meanwhile, data from Google show that more and more users have recently expressed interest in Bitcoin. The Google Trend Score, which indicates the relative search volume, currently stands at 92, with a maximum value of one hundred representing the greatest possible search volume. Within a few weeks the number of search queries has increased by 233%.
As the infographic indicates, the increased attention is directly related to the corona crisis. 39% of Bitcoin buyers find BTC more attractive due to the pandemic, while just 13% stated finding Bitcoin less desirable in the face of Covid19.
Bitcoin Rallies 2020
The atmosphere towards BTC on social media is bullish. Within the last 7 days, 88,388 positive tweets concerning Bitcoin have been posted, while only 18,425 expressed skepticism concerning the cryptocurrency with the largest market capitalization.
Investments in stocks, real estate, commodities, life insurance and the like remain much more popular in Germany. Bitcoin's recent performance has left a long shadow over most other assets. In the year under review, the Bitcoin price has climbed by 151.7%. Over the same period, gold rose by 28.5%, and the DAX even declined slightly in value.