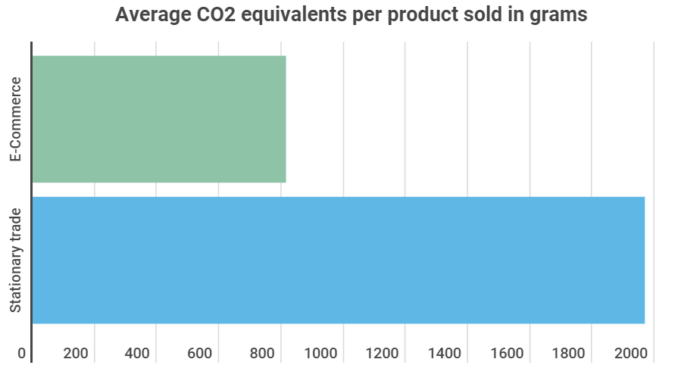 The average product sold online generates 815 grams of CO2 equivalents, compared to 1,969 grams through bricks-and-mortar retail. As far as sustainability is concerned, e-commerce seems to be clearly ahead, as revealed in a new infographic from Block-Builders.de.
The main factor contributing to bricks-and-mortar retail's large carbon footprint is the high energy consumption of retail space. All in all, online retail scores points thanks not least to more efficient warehousing methods, as shown by data from a new study from Oliver Wyman. Yet that's not all. The Federal Environment Agency also recognises the "ecological advantages" of buying online "in many cases".
Clear Development
The trend towards online shopping, which had already been well underway, has accelerated in the wake of the Corona pandemic. According to the "Statista Global Consumer Survey", 50% of German citizens aged 16 and over have been ordering more online as a result of the pandemic. Yet at the same time 45% of citizens indicated concern with the volume of associated packaging waste. This underlines the growing traction among consumers of the issue of sustainability.
The infographic demonstrates that neglecting the issue of sustainability can have a significant impact on company sales. For example, 14% of Germans have already decided to stop buying a certain product for the sake of sustainability. Up to 7% even boycott entire brands for this reason.
Concern for the environment is not just causing a sensation among consumers – it is also making waves on the stock exchange floor. At the end of last year, 14.7% of investment capital was held in sustainable assets. According to current forecasts by the "Forum Nachhaltige Geldanlagen" (Sustainable Investment Forum), this share could rise to 37.7% by 2025.