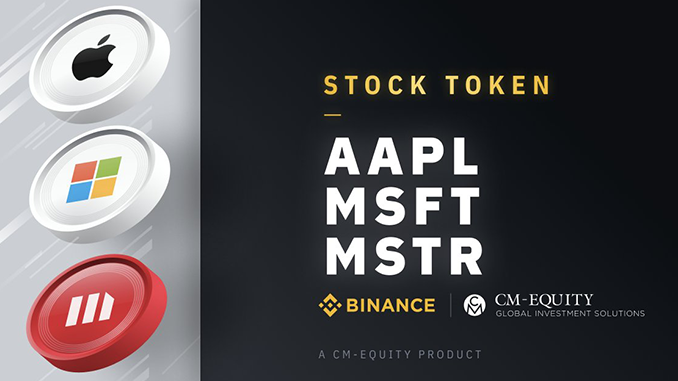 The world's leading crypto exchange Binance is getting serious about expanding its business with tokenized shares. After Tesla and Coinbase, MicroStrategy, Apple and Microsoft are now joining the portfolio.
Younger investors in particular love organizing all their investments through one platform. The success of providers such as eToro or Robinhood shows that shares and cryptocurrencies are in demand. Then, just over two weeks ago, the globally most important crypto exchange Binance also started to launch its offering in the direction of stock trading. With the listing of Tesla shares on Binance, the starting signal was given, followed shortly thereafter by the securities of Coinbase. Now Binance is adding the shares of three more US companies to its portfolio, namely Apple, Microsoft and MicroStrategy. As before, the company is relying on cooperation with CM-Equity from Germany for legally compliant implementation, according to a statement from Binance.
Trading Apple, Tesla and Co. at Binance – what you should know
Binance proceeds in terms of stock trading in such a way that the securities are represented as tokens, which are, however, 100 percent backed by shares. Binance calls this method, which is also used by FTX, "equity tokens". For investors, this approach by Binance has two major advantages: For the time being, trading is free of fees and, secondly, it is possible to buy and sell fractions such as 0.1 of a share. The underlying currency for stock trading at Binance is the stablecoin Binance USD (BUSD). Trading takes place during normal exchange hours. Binance stock tokens entitle holders to dividends but do not give voting rights at shareholder meetings.
With Tesla as its first stock token, Binance had chosen a highly symbolic company that accepts payments in Bitcoin (BTC) and also shifts cash reserves into Bitcoin itself. The listing of Coinbase was also a PR stunt to integrate the new stock of the rival US crypto exchange into Binance's portfolio.
The trading of MicroStrategy shares on Binance, which started early today, was another US company that propagates Bitcoin and celebrates price gains with its per-BTC strategy. Apple and Microsoft are two of the most important typical stocks that investors can use to bet on the big names from the IT sector in the US. Apple will be listed on Binance starting tomorrow (Wednesday, April 28), with Microsoft to follow on Friday (April 30).
In order to perceive stock trades at Binance, you as a German customer must complete level three of the identity check (Know Your Customer, KYC) at Binance. If you haven't already done so, you will initiate this via your Binance account online and will be asked some questions about risk management, address verification and the like. This is no big deal and should get you access to Binance stock tokens quickly.
Conclusion: Binance fulfills customer needs with stock trading
Binance is also linking the listing of Apple, Microsoft and MicroStragey again with indications of adding more tokenized securities to the division soon. Those familiar with Binance know that we can thus expect a rapidly growing portfolio here. And the strategy makes sense: because in order to diversify one's investments, it doesn't only make sense to look from Bitcoin to Altcoins. Stocks are also part of a more diversified tactic to protect one's investments from inflation risks and to take advantage of profit opportunities at the same time.
---
Open a Binance Account here and save 10% on fees for a lifetime.