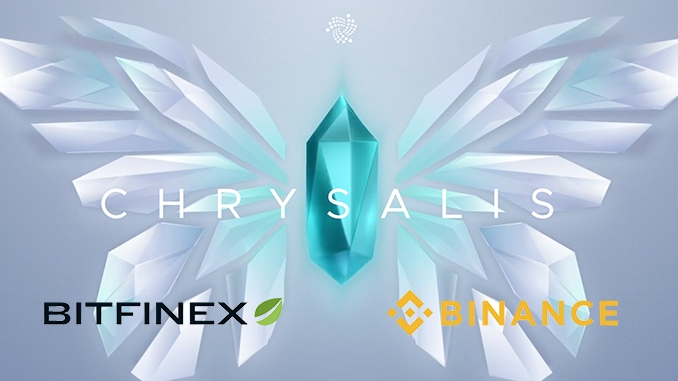 Tomorrow, Wednesday, IOTA 1.5 is scheduled to launch through the launch of Chrysalis on Tanglenet. Prior to that, the likes of Binance and Bitfinex are suspending the option to deposit or withdraw IOTA.
If you hold IOTA and are wondering about problems or restrictions with your balances on accounts at crypto exchanges these days – no need to panic. Binance, for example, has informed its IOTA customers on short notice that they support the switch to Chrysalis for IOTA 1.5. This major upgrade is scheduled to become a reality tomorrow (Wednesday, April 28) and will entail IOTA tokens migrating to the new Tanglenet. In order to securely handle this process in the background for customer funds in IOTA, Binance has currently suspended IOTA withdrawals and deposits. It is expected that this restriction will be lifted again during the course of tomorrow, when IOTA reports execution to Chrysalis.
Bitfinex is proceeding in the same way as Binance. There, too, customers are informed via notification that Bitifinex fully supports the update Chrysalis at IOTA. Therefore, deposits and withdrawals of IOTA are temporarily suspended at Bitfinex. Bitpanda has also already announced support for IOTA 1.5 via a blog post and will temporarily suspend deposits and withdrawals of IOTA for this purpose.
However, the situation remains unclear for Liquid and Bittrex. Regarding these crypto exchanges, the IOTA Foundation had stated to have submitted all information to Chrysalis without getting any feedback. There is also nothing new about IOTA 1.5 from Liquid or Bittrex on their blogs and Twitter accounts so far. Here you either have to keep waiting or transfer your IOTA manually to the new wallet Firefly.
For the crypto exchanges Upbit, OKEx and HUOBI, the IOTA Foundation expects a support of Chrysalis and the token migration counting to it in May at the latest. So here it is important to follow the announcements at the respective crypto exchanges. Meanwhile, IOTA's status page shows that as of Tuesday morning, about 10 percent of all IOTA has already migrated to Tanglenet, which will take effect tomorrow.
Conclusion: IOTA waits for the big Chrysalis day
In the IOTA foundation, people will be counting down to Chrysalis. Certain hopes for price gains in IOTA, if Chrysalis goes smoothly over the stage, resonate there. After all, IOTA 1.5 should become significantly faster and more user-friendly with Chrysalis. In the medium term, IOTA 1.5 is supposed to pave the way to a decentralized Tanglenet, which runs under the project name Coordicide aka IOTA 2.0. Here, the end of 2021 is the target date with the big promise of making IOTA fit for the growing DeFi division as well. But for the moment, the focus is still on Chrysalis.
---
Best place to buy Bitcoin and IOTA: