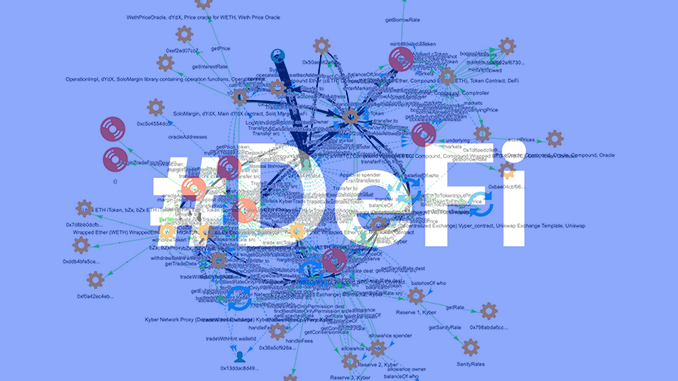 Decentralised financial transactions, or DeFi for short, have become a trend topic in the crypto year 2020. Projects like Compound (COMP) and Maker (MKR) are experiencing massive price gains. But a data analyst shows: The absolute numbers of capital tied up in DeFi are still at a very low level.
DeFi (Decentralised Finance) is currently much discussed in the crypto-scene, investors have benefited from successful projects such as Maker (MKR) and Compound (COMP) with sometimes triple-digit price gains. But we must warn against blind optimism, says Ryan Watkins, an analyst at Messari, a platform specializing in cryptographic data. Watkins provocatively begins a multipart article on Twitter with the statement In terms of market capitalization, all the DeFi projects added together have not even reached the significance of Bitcoin Cash (BCH) or Ripple (XRP) alone. In addition to COMP and MKR, Watkins sees the Synthetix Network Token (SNX), Aave (LEND), Kyber Network (KNG) and other smaller coins as crypto-currencies to be classified under DeFi.
Background on DeFi and the crypto industry
Watkins' assessments are not subjective, but are backed up by figures. He puts the current total volume of DeFi in crypto-currencies at around 4.2 billion US dollars with MKR and a good 500 million US dollars as top representative. But even MKR only just manages to leave the Dogecoin (DOGE), which was actually intended as a meme, behind it in terms of capitalisation. If the overall market is taken as a yardstick, the picture becomes even clearer: then the 4.1 billion US dollars for DeFi is offset by 290 billion US dollars for all crypto currencies. Even if you subtract Bitcoin (BTC) and Ethereum (ETH) from this figure, the balance of power remains clear: USD 4.1 billion for DeFi against USD 45.7 billion circulating in other block chains.
However, Watkins also points out that many projects whose future remains uncertain are listed in the TOP 30 crypto-currencies in terms of market capitalization. Watkins writes that many an ETH killer has already become a pipe burst in practice, despite major investments. He also explicitly mentions Litecoin (LTC) and IOTA as crypto-currencies whose suitability for practical use must be doubted. Thus he comes to the conclusion: "DeFi in the crypto industry does not need any new capital at all at the moment in order to continue growing. A mere regrouping of investments should currently be sufficient to drive DeFi forward. In parallel, Watkins sees the entire crypto market as undervalued, whose independence from central banks and monetary policy is, in his opinion, completely insufficiently priced in.
Conclusion: DeFi is on the rise and could experience enormous growth
Not everyone in the crypto scene might like Watkin's deliberate exaggeration, because DeFi thought she was already on the same level as Ethereum. But the absolute numbers are incorruptible and Watkins also explains why he does not see Chainlink (LINK) as DeFi directly, but only as part of the infrastructure. Two forecasts can be deduced from his remarks: Either – less likely – the hype about DeFi will fizzle out in the near future and the corresponding projects will remain in small niches. Or DeFi continues to develop seriously, opens up new layers of users and then has the potential to stir up the TOP 30 most important crypto currencies in the medium term.
---
Best place to buy Bitcoin: