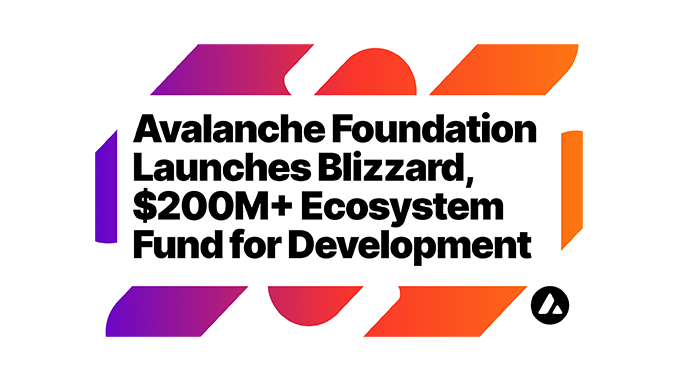 After the DeFi fund Rush for the expansion of Avalanche (AVAX) there is now Blizzard. With at least 200 million US dollars, this is to support projects.
In the competition of altcoins for market share in the boom sectors NFTs and DeFi, monetary incentives have been thrown around for months. Whether Fantom (FTM) with 300 million US dollars for DeFi or Polkadot (DOT) with no less than 770 million US dollars – the exact conditions differ in details, but the thrust is clear: The limited number of innovative developers and projects should be attracted as exclusively as possible and not have to worry about risk capital. Avalanche (AVX) is in the thick of it, courting, and only a month ago drew up a satisfied interim balance.
Because with "Rush", the Avalanche Foundation pushed its standing for DeFi through 180 million US dollars, which finally also paid off in the positive price curve of AVAX. Now the Avalanche Foundation follows up with cooperation partners and releases 200 million US dollars for the investment fund "Blizzard". According to the announcement, this is intended to strengthen the ecosystem around AVAX in four areas: DeFi, NFTs, and business and cultural applications.
Avalanche ecosystem growing rapidly
Emin Gün Sirer, as head of the Avalanche Foundation, points to rapidly growing user numbers and applications for AVAX. With Blizzard, promising proposals are now to be directly supported with investments, shareholdings and know-how from Avalanche. The attached reference to the equivalent of a good 8 billion US dollars in AVAX, which are currently invested with DeFi, shows where the Avalanche Foundation could already score. Here, in absolute numbers, for example, DeFiLlama is clearly ahead of Fantom, Polygon and some other competitors.
When Avalanche looks up for its ecosystem in US dollar volume, however, Solana (SOL) and Binance Coin (BNB) are still clearly ahead there for the time being, with Ethereum (ETH) of course at the very top. But except for Ethereum, the ranking of altcoins with actually used broad ecosystems does not seem to be fixed yet.
Conclusion: golden times for resourceful developers – AVAX beckons
The Avalanche Foundation appears publicly quieter than the representatives of other major altcoins. However, the steady flow of momentum seems to be working at AVAX and "Blizzard" is the next logical step here. Meanwhile, developers and imaginative crypto projects can probably choose with whom they want to cooperate in which ecosystem. Because the war chests are well filled everywhere and released to let the ecosystems of the so-called Ethereum killers expand. This in turn proves that professional investors continue to assume exponential growth for DeFi and definitely do not want to miss the boat.
---
You can buy AVAX on Binance. Open a Binance Account here and save 10% on fees for a lifetime.