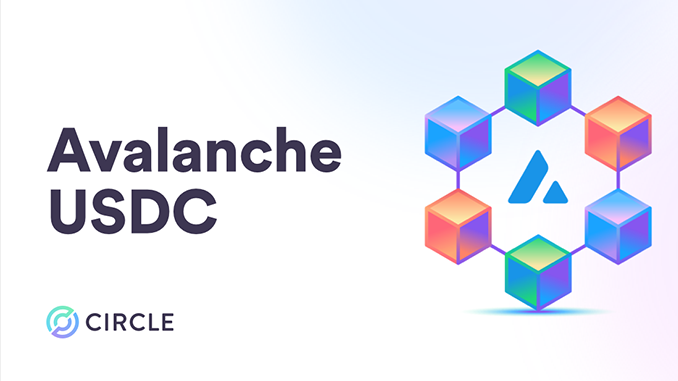 The stablecoin USDC is now also available without detours in the ecosystem of Avalanche. AVAX benefited from this with a good 10 percent increase in the price curve.
Avalanche (AVAX) stormed into the top ten cryptocurrencies at the end of November with an all-time high. The integration of the stablecoin USD Coin (USDC) into Avalanche's DeFi ecosystem now proves AVAX's growing importance. On crypto exchanges, the news was rewarded with a price jump of just over 10 percent for AVAX, putting Avalanche at the top of a nervous overall market.
Here's why USDC is important to Avalanche.
USD Coin is backed by two respected U.S. companies, crypto financial services provider Circle and crypto exchange Coinbase. USDC now gathers a market capitalization of around $42 billion, making the stablecoin the second most important of its kind after Tether (USDT). In a press release, Circle for USD Coin emphasized that the linkage with Avalanche followed market developments. He said that DeFi under AVAX now has a good $10 billion invested, and that USDC can now deploy this capital as well, without costly exchanges. Avalanche is already the seventh blockchain for which USDC has been adapted. USDC is also natively available in the Solana (SOL), Algorand (ALGO), Stellar (XLM), Hedera Hashgraph (HBAR), TRON and Ethereum (ETH) ecosystems.
USDC points to its own success story in addition to Avalanche's. USD Coin's market capitalization has increased more than tenfold in the last twelve months, and USDC's user numbers in the DeFi division are growing rapidly. At Avalanche, in turn, the richly stocked "Blizzard" and "Rush" funds are having an impact and moving developers to look at DeFi for AVAX in a product-ready way. Avalanche's listing on Coinbase in October also helped raise AVAX's profile.
Conclusion: Cooperation of USDC and Avalanche Win-Win Situation
Decentralized Finances (DeFi) are attracting rapidly growing capital, AVAX and USDC are already proving this each on their own. The fact that these two altcoins now work smoothly in tandem for DeFi makes it easier for investors to use Avalanche's ecosystem. There, very low fees for transactions and high scalability are key plus points. This creates a win-win situation for AVAX and USDC. After the price jump, AVAX is once again trading above the psychologically important mark of 100 US dollars and, in a positive environment, could again tackle its all-time high from November of around 150 US dollars. USDC, on the other hand, is already eyeing Tether (USDT) and wants to catch up with the most important stablecoin in the crypto industry so far in terms of market capitalization.
---
Open a Binance Account here and save 10% on fees for a lifetime.