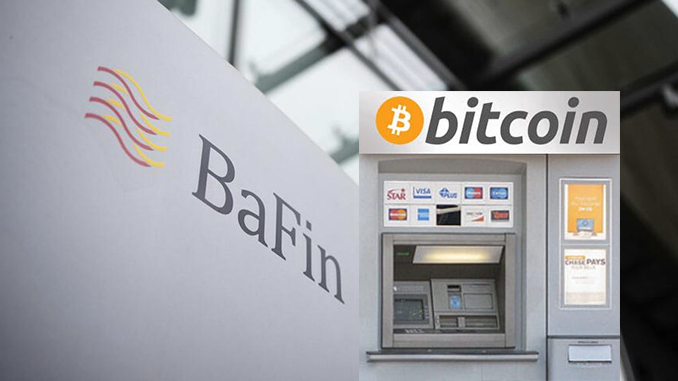 Buying and selling Bitcoin (BTC) at special cash machines sounds tempting in itself. But the German financial supervisory authority BaFin considers such offers to be subject to approval. That is why it has now taken action against one operator and had 17 such Bitcoin ATMs confiscated.
They can sometimes be seen at airports, in shopping malls and other places with a lot of public traffic: ATMs that don't belong to any bank, but advertise with the symbol of Bitcoin (BTC). Because Bitcoin is becoming a household name to an increasing number of people, resourceful vending machine manufacturers want to turn it into a business. The machines, which were specially developed for crypto currencies, accept cash from customers to purchase BTC and other crypto currencies. Those who want to sell their BTC or popular old coins are in turn paid out in cash. The operators earn on fees and do not always offer the best rates. At least for a chain this is over in Germany. As early as March, the Federal Financial Supervisory Authority (BaFin) found that no approval had been obtained for the Bitcoin machines set up nationwide under the brand name "Shitcoin.Club". The business was therefore to be discontinued immediately. Since the operators around Adam Gramowski from Poland did not adhere to this, BaFin now had the 17 BTC machines of "Shitcoin.Club" confiscated in Germany.
The machines are already no longer listed on the operator's website. According to Coin ATM Radar only 51 Bitcoin ATMs are still active in Germany. The Handelsblatt had recently reported on "Shitcoin.Club" and also on the legal difficulties that other providers have. According to the report, BaFin makes such high demands on the approval for the provision of Bitcoin ATMs that entrepreneurs and start-ups in this industry almost inevitably find themselves in legally difficult waters.
Conclusion: Bitcoin vending machines – a good idea with pitfalls in Germany
The now confiscated machines may still have contained cash and possibly also access data to Bitcoin Wallets. What happens with this money remains open for the time being. However, customers are unlikely to have suffered any damage, as they either received cash when using the machines from "Shitoin.Club" or private keys for purchased BTCs. A look at the map of Europe from Coin ATM Radar shows that 151 Bitcoin ATMs are active in Austria, 83 in Switzerland and double-digit numbers for such ATMs in other EU countries. So there is obviously a need. For the time being, the decisive question for this country is how such Bitcoin machines can be installed in compliance with the rules. Solutions could be found if traditional banks also support the trade with crypto currencies more strongly than they have done so far.
---
Best place to buy Bitcoin: