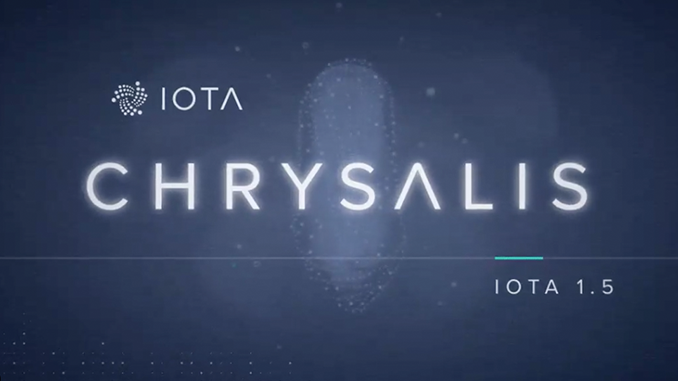 IOTA 1.5 is getting closer, because next week a larger part of Project Chrysalis will be connected to the Mainnet. This will increase IOTA's capacity to over 1,000 transactions per second with a confirmation time of 10 seconds.
In the past 24 hours, IOTA has gained well over 15 percent in price, and is thus quoted above 0.40 US dollars for the first time since July 2019. The reason for the price jump is promising progress in the technical development of IOTA. About two weeks ago, the IOTA Foundation had already reported that the Chrysalis project was running smoothly in the Testnet. Now, according to IOTA, phase one of chrysalis will be launched in the Mainnet next week. This should guarantee much more speed for transactions. IOTA's Tanglenet will then be able to handle at least 1,000 transactions per second (TPS) with confirmation times of 10 seconds per transaction, it is said.
IOTA 1.5 as intermediate stage before Coordicide
When IOTA published a timetable for the implementation of Crysalis aka IOTA 1.5 at the end of May, two stages were announced. Part One, which is now due, was originally planned for the beginning of July, so it is delayed by about six weeks. A second part, with which Crysalis will then be completed, was originally planned for the end of October. So far this date has not been changed. The roadmap for chrysalis still shows eight details still under development, including reusable IOTA addresses and autopeering.
Chrysalis is a priority for IOTA, as it is intended to increase speed and usability. At the same time, chrysalis is also called IOTA 1.5 because the extensive technological improvements are considered a decisive intermediate step before the big goal of Coordicide. With Coordicide, IOTA2.0 is to become reality and the central coordinator is to be abolished. The central coordinator is a thorn in the side of many because it is contrary to the principle of decentralization typical for crypto-currencies and blockchains. Here, the first quarter of 2021 was the last target date mentioned by IOTA.
Conclusion: IOTA spreads hope among investors again
For IOTA, the crypto year 2020 got off to a very bad start with a blatant security gap in the official Trinity Wallet and the resulting paralysis of the Mainnet for almost a month. Now, however, it seems that optimism is returning on the part of developers and this feeling is also spreading to investors, as the recent price gains demonstrate.
---
Best place to buy Bitcoin and IOTA: