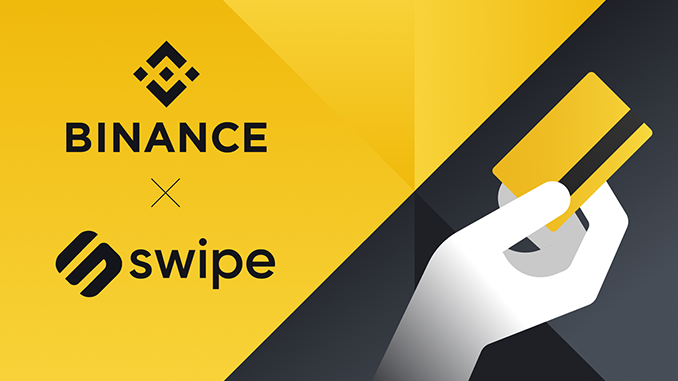 The crypto exchange Binance has acquired Swipe, a provider of crypto credit cards and financial services. A purchase sum was not mentioned. Parallel to the deal, the Binance Coin (BNB) will now also be integrated into Swipe and Binance will list the Swipe Token SXP.
The collapse of Wirecard and the associated temporary deactivation of crypto credit cards has shown that there are still very few attractive offers in this field. Binance, the world's leading crypto exchange, had already made public plans in March to enter the crypto credit card business. Now Binance announces that it has taken over Swipe.io, one of the few Visa credit card providers that also integrate established crypto currencies as credit.
Background on Swipe and SXP
Swipe allows its customers to hold around 20 different crypto currencies on Swipe's wallet and link them to a Visa debit credit card. These credit cards are issued by Contis Financial Services Ltd, a financial services provider registered in the UK. Swipe's crypto-credit cards are approved in the EU and work hybrid. They can be used to link both bank accounts and the Swipe Wallet. If you want to access crypto-credits, you choose which one to exchange for Fiat and thus use for normal payments. So far, Swipe supports Bitcoin (BTC) and most of the leading old coins such as Ethereum (ETH), Litecoin (LTC), Rippe (XRP) and EOS. Swipe currently charges a 1 percent fee for the exchange of crypto into euros. The Binance Coin (BNB) is now added to the Altcoins supported by Swipe.
With SXP, Swipe itself has a discount token that guarantees discounts. Crypto expert Larry Cermak points out on Twitter that the first reports about the takeover of Swipe by Binance were already circulating at the end of June. Since then, SXP has increased in value by 50 percent. Cermak also refers to an inquiry to Binance in April, when the crypto exchange described takeover talks with Swipe as "false information". Cermak believes that Binance wanted to avoid accusations of insider trading. But in his opinion, Binance is using its market power to make profits by taking over and investing in other crypto companies. According to his thesis, it is sufficient to list an existing token with Binance or to launch a new token through the new investments.
Binance and Swipe did not initially comment on this criticism. Binance has started to list SXP and points out that it has received SXP itself through the acquisition of Swipe. However, the vast majority of these were to be kept for years to allow Swipe to continue to grow.
Conclusion: Despite the aftertaste – Binance takes a customer-friendly step with Swipe
The greater the dominance of Binance in the crypto industry, the more criticism the company has to take. Larry Cermak's comments about the lack of transparency in the Swipe acquisition have a certain logic and further expansion rounds of Binance will probably be scrutinized more closely than before.
On the other hand, it's good news for Binance customers that they now have the option of using their crypto-credits in everyday life with Swipe credit cards. Details of future projects are to follow, but with NBB at Swipe and SXP at Binance, the parties involved are already coming together very closely.
If you compare the credit cards from Swipe in detail with those from Coinbase, for example, you will notice lower fees with Swipe and even up to 4 percent cashback in Bitcoin (BTC). However, for this you have to hold at least 300,000 SXP for at least six months, which at the current rate is more than 170,000 US dollars. But even with the entry-level model at Swipe, where no SXP is required, there is already 1 percent cashback in BTC and a Visa credit card accepted worldwide.
So the market for crypto credit cards is booming and it remains exciting to see whether Binance will leave it with Swipe or continue to work on developing a solution under its own name. One thing is certain: such practical offers will bring Bitcoin and Co. into the everyday lives of many people for whom the sometimes complicated process of changing crypto to Fiat is too complicated and for whom the crypto credit cards will take care of this procedure in the background.
---
Open a Binance Account here and save 10% on fees for a lifetime.