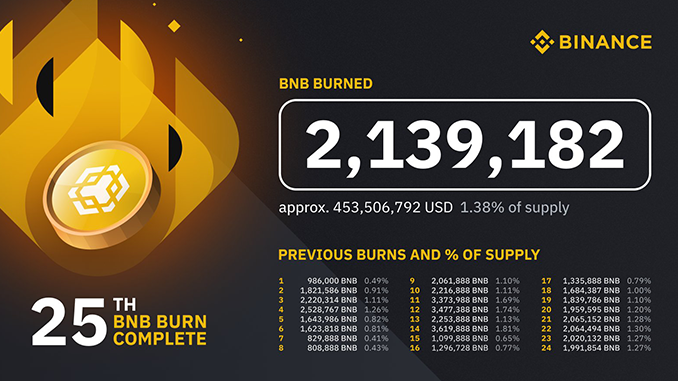 Binance Coin has enshrined in its concept to massively destroy ("burn") BNB on a quarterly basis. In the 25th such round, this now affected Binance Coin for around half a billion US dollars and continues to cause deflation.
For the crypto exchange Binance, which is used to success, 2023 is not an easy year. In the U.S., it has been sued by the Securities and Exchange Commission (SEC), and in Europe, SEPA financial services provider Paysafe has bailed out and no successor has yet been found. These obstacles to Binance's business development are also reflected in BNB's price curve, upward trends of the crypto lead currency Bitcoin (BTC) could not be followed by Binance Coin lately. And yet there are important arguments in favor of BNB, including the so-called "burning" every quarter. This took place for the 25th time yesterday and affected a good 2.1 million BNB worth the equivalent of around 500 million US dollars, according to a statement from Binance.
But why are large quantities of BNB destroyed automatically every three months, for the past quarter about 1.38 percent of all Binance Coin in circulation? The answer is simple: when Changpeng Zhao (CZ) founded Binance in 2017, it was funded by the sale of the then-new cryptocurrency BNB. Binance Coin was associated with the promise of significant discount in fees (discount tokens) and planned deflation through the burning program. In fact, Binance and CZ delivered on their promises. Of the 200 million BNB originally generated, just under 152 million still exist now after the 25th Burn. Since it was ruled out from the beginning that ever Binance Coin will be "reprinted", the Burn program results in natural deflation, which so far also always supported or strengthened the price curve of BNB. By the way, the destruction of BNB is supposed to end when there are only 100 million Binance Coin left in circulation.
Conclusion: Binance Coin as a deflationary cryptocurrency is an exception
Major stock market debuts in the past twelve months such as SUI, Arbitrum (ARB) or Aptos (APT) were regularly accompanied by critical discussions on token distribution. These young cryptocurrencies have so far only launched smaller portions of the planned total amount of their tokens and have often reserved rather large amounts for their founders. Binance Coin is completely different in this regard, and CZ reminded us on X (formerly Twitter) a week ago that BNB was launched fairly. No one was allocated BNB for free and the reserves originally intended as "team tokens" go into the Burn program. With the deflation guaranteed by this, Binance Coin differs positively from many other cryptocurrencies and continues to have other plus points such as fee discounts or use as a participation ticket for Launchpool and Launchpad. So it is quite possible that the price curve of BNB will pick up again when Binance gets its regulatory problems under control.