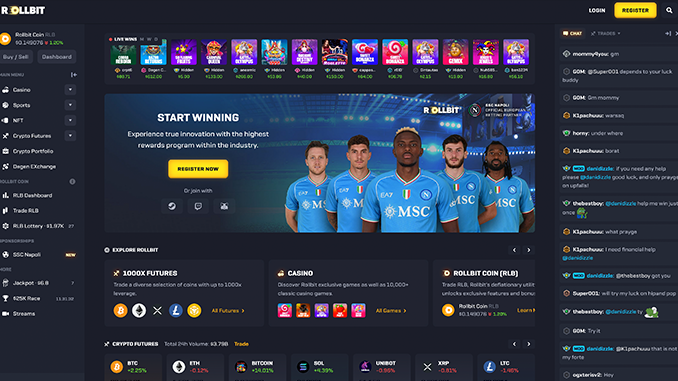 Rollbit (RLB) has gained a good 7,000 percent this year and has become the number one casino coin. Some experts still consider Rollbit undervalued. So it's time to take a closer look at RLB.
Rollbit (RLB) embodies perhaps the biggest success story in crypto in 2023: As of January 1, the casino coin was still trading at $0.002. Currently, Rollbit's price curve stands at around $0.15. With a good 7,000 percent plus, RLB has left the trends on the overall market miles behind. With a market capitalization of currently 493 million US dollars, Rollbit has already surpassed well-known cryptocurrencies such as IOTA since its stock market debut in April 2022 and is approaching the top 50 coins worldwide. On X (formerly Twitter), despite RLB's unique rally, analyst "Crypto, Distilled" is optimistic that Rollbit still has plenty of room to run up the price curve. His arguments in favor of Rollbit are worth a look:
– RLB is the native cryptocurrency for the Rollbit platform, which offers gambling, sports betting, speculative crypto futures, NFT loans and more. Some of the profits go into lottery pools, and some are wiped out to make RLB deflationary.
– According to Crypto, Distilled's calculations, the price-to-earnings (P/E) ratio for RLB was 1.01 in September, and over the last twelve months, Rollbit's revenues added up to $456 million, nearly the value of RLB's market capitalization. That's an impressive value that would read as "undervalued" in traditional equity markets.
– "Crypto, Distilled" Rollbit's price curve is reminiscent of Binance Coin's (BNB) in 2021, when investors in BNB recognized a drastic undervaluation relative to crypto exchange profits and sent BNB on a rally with more than a 5x increase in value.
– In terms of profit, Rollbit is the number one cryptocurrency, but in terms of market capitalization, it is only a number in the 70s, writes "Crypto, Distilled."
– A weighty plus of Rollbit is the deflation built into the concept, as part of the revenue is automatically destroyed ("burned"). As a result, RLB is projected to experience at least 15 percent deflation annually.
– Rollbit occupies more than 70 percent market share in the so-called "gambling" segment of the crypto industry, as also evidenced by CoinGecko data, for example. Competitors such as FUNToken (FUN) or Decentral Games (DG) rank far behind.
The possibly most important information about Rollbit is hidden in an inconspicuous line "Crypto, Distilled". This is because RLB is still not listed on a single major crypto exchange such as Binance, Coinbase or Kraken. More than 90 percent of Rollbit's trading is done on the decentralized crypto exchange Uniswap. So, if RLB starts showing up on the major crowd-sourced crypto exchanges as well, Rollbit's price curve could develop its next momentum.
Bottom line: get in on Rollbit (RLB) now?
If you're interested in casino games and betting exchanges in the crypto industry, you've probably already heard about Rollbit and RLB. The indicators on RLB listed by "Crypto, Distilled" actually suggest that Rollbit continues to have giant potential. After all, gambling is a guaranteed business for casino operators in the real world as well, with high demand, and Rollbit, as the crypto market leader in its line of business, is obviously doing a lot of things right. We think: Rollbit is therefore well worth looking into Uniswap and possibly adding RLB to its portfolio. Risks for Rollbit, on the other hand, are regulators and flaws in the complex smart contracts that make sports betting and casino games possible in the first place.