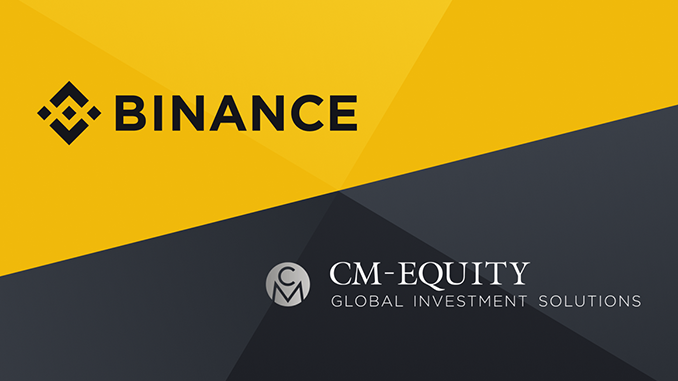 As the world's leading crypto exchange, Binance is strengthening its business in Germany and the EU by entering into a strategic partnership with the Munich-based financial institution CM-Equity. CM-Equity has been approved by the German regulatory authorities and focuses on key accounts in the crypto sector.
In CM-Equity, the crypto exchange Binance has found a partner in Germany that is expected to stimulate and expand its business in Europe. In a joint press release the two companies declare the beginning of a "strategic partnership". Whether money has flowed in the process remained open. Binance CEO Changpeng Zhao emphasises that CM-Equity will contribute its expertise in working with regulators and complying with legal regulations. The company expects a long-term cooperation with the aim of further strengthening the crypto industry and offering customers new financial products.
Background on CM-Equity and Binance
CM-Equity is licensed by the BaFin (German Federal Financial Supervisory Authority) and may, for example, organize the legally compliant issuance of security tokens (STO) for corporate customers. CM-Equity also offers consulting services for investment strategies in Bitcoin and Co. and asset management. For the future, the company also aims to be allowed to act as a regulated depositary of crypto-values. Through the licensing in Germany, CM-Equity is able to offer its services throughout the EU.
Binance is likely to have shown interest in CM-Equity also because the company is targeting large customers in particular. Through the partnership, they can now access greater liquidity through Binance, says Michael Kott, CEO of CM-Equity. The partners are also hoping for synergies in the areas of security and technological infrastructure. Concrete joint projects are to be announced later.
Conclusion: Binance continues to establish itself in Germany
As the largest economy in the EU, Germany is naturally an exciting market for finance. In Berlin, Binance is expanding its representative office, with a particular focus on institutional investors. With CM-Equity, Binance secures know-how and contacts for the German-speaking region and beyond. It remains to be seen whether this strategic partnership will also have an impact on Binance's German private customers in the future. It would be conceivable, for example, to jointly market STOs, even though this financing method has not really caught on to date and in cases like Bitwala, it certainly raises questions. The news of the merger with CM-Equity was good news for Binance Coin (BNB) as an indicator of the developments at Binance; BNB's price has risen by almost 20 percent since the announcement.
---
Best place to buy Bitcoin: