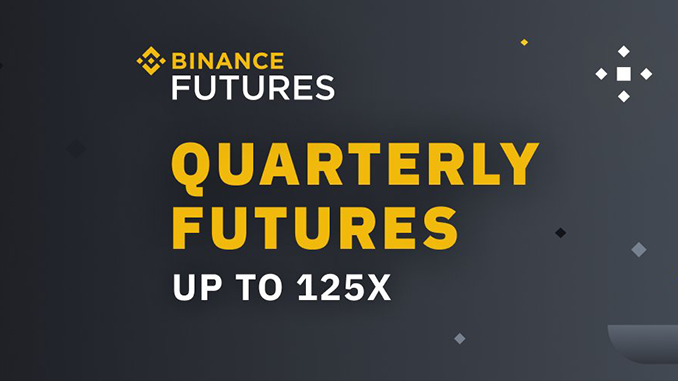 Binance is expanding its offering in the growing market for Bitcoin Futures with the addition of Quarterly Futures, which have a predefined fixed expiration date. The futures are traded in US dollars with a leverage of up to 125.
Bitcoin Futures have developed into an established financial instrument that is based on the price development of Bitcoin (BTC). The market now ranges from Bakkt Bitcoin Futures on traditional exchanges to offers from crypto exchanges with sometimes very different contract terms. Binance is now expanding its portfolio with BTCUSD Quarterly Futures. The special feature of these futures is that they are futures linked to a specific date and not so-called perpetual futures without a fixed expiry date.
Background on BTCUSD Quarterly Futures
The first Bitcoin Futures from Binance with a fixed expiration date will carry the ticker symbol "BTCUSD Quarterly 0925", with the digits representing the expiration date September 25. Trading in them began yesterday, Thursday, according to a release from Binance. These futures can be traded with a leverage of up to 125 and are settled in US dollars. Binance CEO Zhao Changpeng celebrates the first trading day on Twitter, which has already attracted a volume of more than USD 100 million.
https://twitter.com/cz_binance/status/1271304423931736069
One reason for this may be that Binance is offering quarterly futures for its BTCUSD at the start with attractive discounts on fees. Until 10 July 2020, takers will pay only 0.020 percent and makers will even receive a bonus of at least 0.010 percent. Also important: Unlike the Quarterly Bitcoin Futures of competitors such as BitMEX, no funding rate is charged. BitMEX charges this fee every 8 hours, but it also has the advantage that it allows the deal to be terminated at any time.
Conclusion: Binance becomes even more mature with Quarterly Futures
In a blog post, Binance lists the possibilities that are now offered for trading Bitcoin and partly other crypto currencies. Besides the spot market, these are leveraged tokens (with leverage up to 3), perpetual futures (maximum leverage 125), options (without limit) and now the quarterly futures. In classic futures trading, fixed expiration dates are the standard and meet the needs of professional traders. CZ indicates that quarterly futures based on other crypto currencies are likely to be launched in the near future. You as an investor now have the chance to enter the Bitcoin Futures market with BTCUSD Quarterly 0925 at record low fees. According to Binance, the volume of derivatives based on crypto-currencies reached a new all-time high in May with a good USD 600 billion in the total market.
---