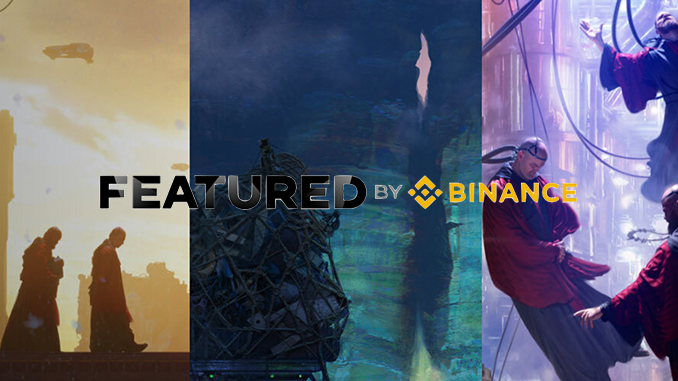 Binance is launching its own marketplace for NFTs on June 24. At launch, digital versions of iconic works by Andy Warhol and Salvador Dalí, among others, are expected to attract attention.
At the latest since an NFT by digital artist Beeple fetched a record price of nearly $70 million at Christie's auction house in March, the crypto industry and the art world have realized their points of contact. Now, the world's largest crypto exchange, Binance, also wants in on the boom, launching its own digital art marketplace, Binance NFT, on Thursday (June 24). In a blog post, an attractive program for the opening days is announced for Binance NFT. Andy Warhol and Salvador Dalí, two great names in art history, are the most conspicuous drawcards.
In cooperation with Apenft, Warhol's series of three self-portraits ("Three Self-Portraits"), described as "iconic," will be reproduced as NFT. The work was purchased by Apenft in March for $2 million and now enters a five-day auction. Binance calls this top lot "Genesis" as part of its collection. 100 NFTs of it are up for bid and the highest bidder is also expected to receive the original. In Salvador Dalí's case, a motif from his illustrations of Dante's "Divine Comedy" has been converted into an NFT and "refined" with the symbol for Bitcoin, Binance's logo and the signature of Binance CEO CZ. Bids will be accepted in the Genesis auction starting Thursday.
Up-and-coming artists also represented at Binance NFT.
In parallel, Binance is introducing "100 Creators," 100 selected artists to broaden the view of NFTs. Non-fungible tokens are unique tokens that are documented in a blockchain and then typically link to a digital artwork. This model drastically reduces the high fees charged by auction houses; Binance takes only 1 percent on realized sales. In addition, NFTs allow a smart contract to stipulate that artists will automatically share in any resales of their work. Binance also pulls this option and promises the 100 Creators 1 percent participation for life whenever their art changes hands again. "100 Creators" thus becomes a showcase for Binance NFT and is sure to attract more promising artists in the future, and thus collectors.
The third attraction at the launch of Binance NFT will be a "Mystery Box". This contains 16 motifs from the "tokidoki" series by Simone Legno as NFT. Tokidoki as a brand is also a worldwide best seller physically with more than 1 million images sold, Binance said. This exclusive mystery box will be followed by others with prominent names in the future to allow collectors to expand their collection affordably, Binance shares.
Conclusion: Binance NFT is definitely worth a look
Different avenues are still being explored in the presentation of NFTs and methods of sale. With Opensea and Hic et Nunc, two platforms have already established themselves that rely on Ethereum (ETH) and Tezos (XTZ), respectively, as blockchain solutions in the background. With Binance NFT, Binance Coin (BNB) is likely to become an important part of the overall package. However, little is known about the technical details of Binance NFT and some things will probably only become clear on June 24. In order to participate in Binance NFT auctions and special promotions, the existing customer account is sufficient or a new account must be created simply and quickly. Binance promises all buyers of a NFT in the first month additionally a limited NFT as a gift. Whether the tactics for Binance NFT will work out will be shown in the coming weeks, not least by the results of the Genesis auction with Warhol and Dalí.
---
Open a Binance Account here and save 10% on fees for a lifetime.