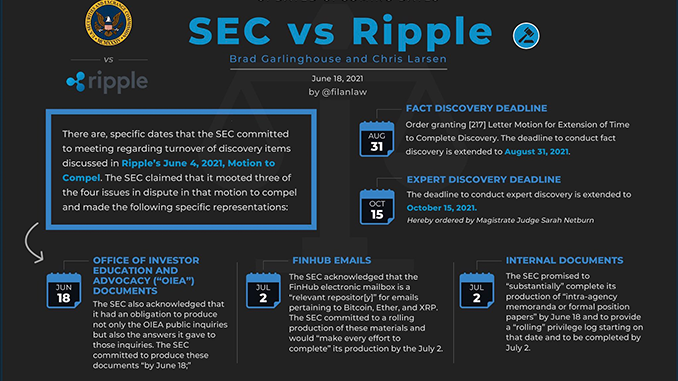 Hopes for an early end to the trial in the duel of the U.S. Securities and Exchange Commission (SEC) against Ripple over XRP must take a damper. According to observers, no verdict is in sight before the beginning of 2022.
Shortly before Christmas 2020, the U.S. Securities and Exchange Commission SEC had filed a lawsuit against Ripple (XRP). This process is being followed closely in the crypto scene. For one thing, a ruling is likely to have an impact on the future and price of XRP. In addition, the hard-fought dispute is considered a model for the question of whether the SEC is responsible for some altcoins at all, because they would be classified as securities. For about half a year, briefs have been exchanged in Ripple vs. SEC and the competent court in New York has been deciding on applications. In the process, Ripple was recently able to score a stage victory for itself, but this again extends the expected duration of the process.
In the USA, two lawyers are known to be following the process closely. Jeremy Hogan and James Filan come to the conclusion independently of each other in their current contributions on Twitter: With deadlines now known and further steps to be expected, the court will not normally be able to reach a verdict before the beginning of 2022. Because so far not even an oral hearing has taken place. Before then, three dates are relevant:
July 2, 2021: By then, the SEC should provide internal documents on Ripple and also Bitcoin (BTC) and Ethereum (ETH), so that it becomes clearer how the SEC comes to judgments on cryptocurrencies.
August 31, 2021: By then, the SEC and Ripple should each detail their legal reasoning and indicate how they envision proving it.
October 15, 2021: Expert opinions and evidence, or further requests for evidence, will be admitted by then.
Even if there are no further extensions of the deadline by then, objections are to be expected and questions are still open in the legal battle, such as the mutual accusation of dragging out the trial. Now add to that hearings and processing times of the court and it becomes clear: A verdict this year would be a big surprise.
Conclusion: Does Ripple have to seek compromise with SEC for XRP?
The mills of justice grind slowly – that is proverbially known. But with the current background knowledge on the schedule, the pressure from investors and investors on Ripple to explore options for an out-of-court settlement with the SEC is likely to increase. This is because trading of XRP in the U.S. remains largely suspended, which is also depressing price performance. In addition, the EOS case has just demonstrated once again that a compromise could be the fastest and ultimately cheaper option for Ripple to get out of the defensive. The major Japanese investor in Ripple, SBI Group, seems to be aiming behind the scenes for a scenario in which – grudgingly – penalty payments are accepted in order to conclude the proceedings. On the other hand, Ripple co-founders Brad Garlinghouse and Chris Larsen are also potentially affected by the lawsuit through their private assets and may therefore have an interest in stalling tactics. It remains exciting whether there will really be a showdown with winner and loser through a court ruling at SEC against Ripple.
---
Best place to buy Bitcoin and XRP: