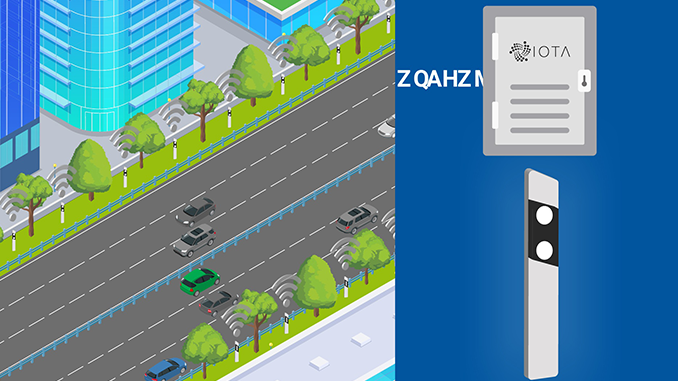 The topic of autonomous driving has long since ceased to be abstract, and the ALFRIED project is intended to prove feasibility in Germany. In the process, IOTA is also being planned as a network.
The idea of vehicles that manage without a human driver is moving closer to reality at high speed. This is proven by driver assistance systems not only at Tesla. The ALFRIED pilot project in Friedrichshafen, which is funded with almost 11 million euros, will now test autonomous and connected driving in a limited test field in the near future. The ETO Group is involved in this project as a supplier to the automotive industry and is bringing IOTA into play. According to the press release, ALFRIED will rely on IOTA 1.5 (Chrysalis) for its technological underpinnings.
ETO Group describes that in ALFRIED, a variety of sensors will provide real-time information, from vehicles as well as from the roads and their surroundings. In IOTA's Tanglenet, this information on weather conditions and traffic, for example, can then be combined, analyzed and passed on. Here, IOTA is then used in its original idea as a tool in the Internet of Things (IoT). IOTA Identity is intended to provide flanking support.
For the IOTA Foundation, Director of Cooperations Holger Köther speaks of an exciting project. The ETO Group is forward-looking, he says, and they are looking forward to integrating IOTA there over the coming years based on the given requirements. The ETO Group also praises the energy efficiency of IOTA, which makes it possible to integrate battery-powered sensors into the network.
IOTA and the vehicle industry – many collaborations.
Making the IOTA ecosystem fit for the automotive industry is also being pursued, for example, in cooperation with Jaguar Land Rover, where IOTA is even planned as a means of payment. For autonomous driving, IOTA's reference so far has been a collaboration on Edag's CityBot. With IoT in its sights, IOTA is a solution in terms of its basic concept. What is surprising about the project contribution for ALFRIED and ETO Group, however, is that explicit reference is made to IOTA 1.5 Chrysalis. This is because IOTA has set itself the goal of switching to a decentralized IOTA 2.0 before the end of the year, which will no longer be backward compatible.
Conclusion: IOTA as a future technology – a broad field
Dozens of collaborations are counted by the IOTA Foundation and the mobility industry is a formative factor. ALFRIED is pre-funded until mid-2023 and should produce presentable results by then. IOTA will then also have to be measured against these.
---
Best place to buy Bitcoin and IOTA: