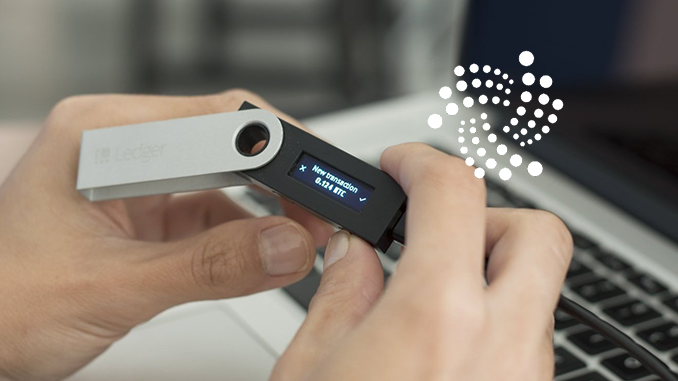 IOTA is struggling with the issue of wallets after the Chrysalis upgrade. The promised connection to the popular Ledger hardware wallets is still a long time coming, as IOTA boss Dominik Schiener admits.
Even eight weeks after the launch of IOTA 1.5 aka Chrysalis many investors are confronted with the situation of not being able to freely dispose of their IOTA. The reason: IOTA 1.5 is no longer compatible with Ledger hardware wallets and there are also construction sites at crypto exchanges such as Binance. Dominik Schiener, head of the IOTA foundation, has emphasized this problem in a post on Reddit, but assures: They are working at full speed on solutions, the connection of IOTA 1.5 to Ledger hardware wallets and full functionality with crypto exchanges has priority level 1.
As a reminder, IOTA had recommended migrating balances to the new official wallet Firefly in the week leading up to the date for Chrysalis (April 28). Those who kept their IOTA on a hardware wallet Ledger Nano S or Ledger Nano X should wait for an update. This has not yet been delivered and, according to Schiener, the testing phase has not even begun. Thus, the affected IOTA are virtually frozen and investors had no chance to sell them. Also purchases of IOTA with secure storage on Ledger hardware wallets are currently not possible.
On Twitter, Hans Moog, developer at IOTA, tries to explain the details: An update of the firmware at Ledger had appeared only 6 days after Chrysalis and had undone the previous work. The core of the problem is "Winternitz One-time signatures" (WOTS), which are not supported by Ledger out of the box. Moog expresses regret for the delay, but also cannot give a definite date for the interaction of IOTA 1.5 and Ledger hardware wallets.
IOTA and wallets – a recurring problem.
IOTA relies on an unusual network solution with its Tanglenet and central coordinator. This requires customization work to be compatible with crypto exchanges and popular Ledger hardware wallets. Trezor's hardware wallets are generally not suitable for IOTA. With IOTA 1.5, the new official software wallet Firefly is expected to become the hub of IOTA's ecosystem. However, Firefly's predecessor called Trinity revealed a critical security vulnerability that led to financial losses for users. Trinity was also only officially released after a considerable delay.
Conclusion: IOTA's flight of fancy is over for the time being
Self-confident as usual, Schiener implores to enjoy the roller coaster ride on the crypto markets and refers to upcoming cooperation and projects of IOTA in Africa and with industrial companies. However, a look at IOTA's price curve turns out to be sobering: At the release of IOTA 1.5, it was still quoted at a good 2.1 US dollars and ranked among the 30 most important cryptocurrencies by market capitalization. Currently, IOTA has fallen to 0.77 US dollars and plummeted to 43rd place in the ranking.
---
Best place to buy Bitcoin and IOTA: