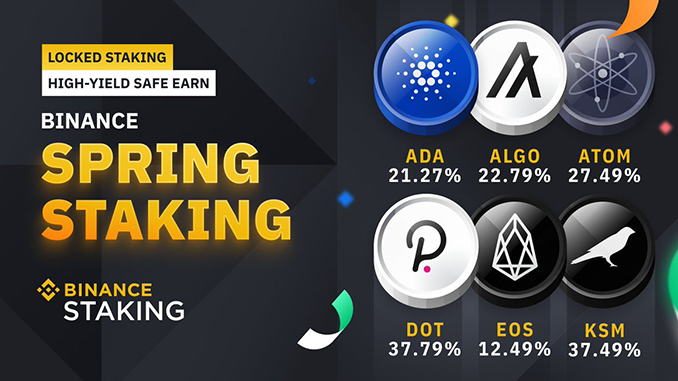 Binance has currently launched a staking program that advertises interest rates up to a good 37 percent. Cardano (ADA), Algorand (ALGO), Cosmos (ATOM), Polkadot (DOT), EOS and Kusama (KSM) can be contributed.
The leading crypto exchange Binance is once again making a name for itself with an interesting offer for HODLers: under the motto "Spring Staking", interest rates are offered for a total of six different altcoins, which are significantly better than the condition with the competition, at least for short-term deposits. In an announcement, Binance explains the details:
1. deposits are accepted immediately, with minimum amounts of 0.1 or 0.01 of the respective tokens.
2. the special interest rates apply to tokens provided for 15 days.
3. on the interest rate extrapolated to one year Binance has turned for
– Cardano (ADA) at 21.79 percent (maximum deposit 200 ADA per participant).
– Algorand (ALGO) at 22.79 percent (maximum deposit 200 ALGO)
– Cosmos (ATOM) with 27.49 percent (maximum deposit 10 ATOM)
– Polkadot (DOT) with 37.79 percent (maximum 10 DOT)
– EOS with 12.49 percent (maximum 50 EOS)
– Kusama (KSM) with 37.49 percent (maximum 1 KSM)
4. interest shall be calculated and credited daily from the second day.
5. temporary withdrawal of coins from the program is possible, but then interest will be recovered. Re-crediting of deposited Coins may take up to 72 hours.
Special interest rates at Binance – haste is recommended
Binance's spring promotion is a positive lure compared to the market, and demand is likely to be correspondingly high. Binance has not explicitly mentioned any maximum limits of cryptocurrency, which this time will enjoy above-average interest rates. However, experience shows that the demand exceeds the internal limits of Binance and you are therefore advised to become active right now. You set the mentioned Altcoins at Binance under the menu item "Finances" and then "Earn" and finally Staking for 15 days. You don't need to do anything else, the credits will be made automatically.
Conclusion: Binance promotes ADA, ATOM, ALGO, KSM, DOT and EOS
Binance currently has such "locked staking" programs on offer for a good 50 altcoins, but they do not always offer the best interest rates in a market comparison. The current promotion is probably also targeted at Algorand, Polkadot, Kusama, EOS, Cardano and Cosmos to attract capital in these Altcoins to Binance. For you as an investor, this current interest period at Binance promises easy realized gains in any case.
---
Open a Binance Account here and save 10% on fees for a lifetime.