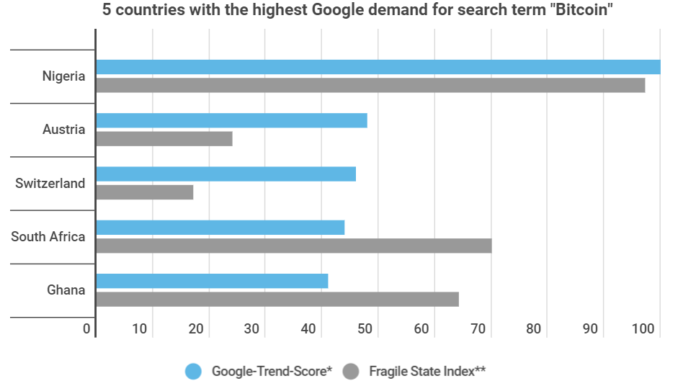 3 of the 5 countries with the highest volume of searches for Bitcoin on Google have above-average scores on the Fragile State Index, an indicator of the functioning of states. This is shown in a new infographic from Block-Builders.de. The hashrate distribution also reveals the growing influence of fragile states and emerging markets. 
China is still responsible for 65.1% of the world's hashrates, according to data from the University of Cambridge. From September 2019 to April 2020, however, the Middle Kingdom's share decreased by 10.5 percentage points. In return, the share of computing power in countries such as Russia, Iran, Venezuela and Kazakhstan is on the rise. Among the 10 countries with the highest share of Bitcoin hashrate, only 2 are in the top ten countries in terms of gross domestic product per capita.
High Search Volumes for Bitcoins in Africa
Meanwhile, data from search engine provider Google show that Nigeria is the country with the greatest relative search volume for Bitcoin worldwide. Google's trend score here comes in at the highest possible value of one hundred. Austria and Switzerland follow, but South Africa and Ghana are two further African countries ranking in the top 5 countries with the highest search volume.
Nigeria, South Africa and Ghana again score above average on the Fragile State Index. According to researchers, these states do not function especially well. Nigeria in particular – the state with the highest search volume – is considered by researchers to have a number of problems. This correlation leads to the hypothesis that Bitcoin's potential is most evident in crisis states. A look at the recent development surrounding Covid-19 seems to confirm this.
This demonstrates that demand for crypto currencies is high not only in politically and economically tense countries. External shocks in particular appear to be giving the digital currency Bitcoin a boost. Google searches reached a 2-year high between March 15-21 this year – just at the peak of the worldwide uncertainty caused by the Covid 19 pandemic.
Large Difference in Forecasts for Altcoin and Bitcoin
While it's true that worldwide demand increased in the face of the corona crisis, the infographics show that citizens' attitudes vary greatly. The greatest confidence in cryptocurrency's future is found in Turkey. Here 62% believe in the potential of Bitcoin & Co.
Overall, the data suggest that Bitcoin especially is indeed acting as a crisis currency. This can on the one hand be seen in the fact that BTC is more popular in fragile states, and on the other that demand rises sharply during external shocks.