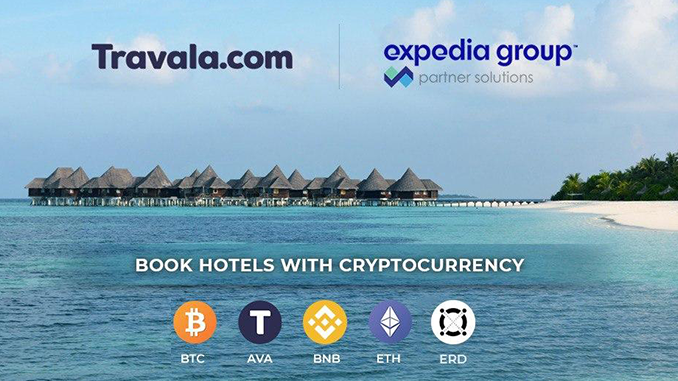 Travala.com, as a crypto-friendly travel and hotel portal, also has its own crypto currency called AVA. The price of AVA has increased by about 30 percent when Travala announced a partnership with Expedia.com. At Travala, customers can also pay in crypto currencies other than AVA.
Pay hotels and airline tickets with crypto? This option is rather rare so far, but since 2017 the platform Travala.com is working on such offers. In May, the UK-based company merged with the travel portal TravelByBit, which is supported by the crypto exchange Binance. Through a partnership with Expedia.com, Travala.com is now getting closer to its goal of becoming the leading travel portal that accepts Bitcoin and Co. As a result, more than 700,000 hotels worldwide will be added to Travala's catalogue, according to a press release. The Travala Token AVA then increased by almost 30 percent. AVA is designed as a discount token that guarantees Travala customers discounts.
Background on Travala.com and AVA
Travala currently accepts payments in around 30 crypto-currencies, from Bitcoin to Ethereum (ETH), Litecoin (LTC) and Ripple (XRP) to smaller Altcoins such as NEO and DAI. With these extensive payment options Travala has a unique selling point in the industry. Already in November 2019 Travala was able to integrate more than 2 million accommodations into its offers through a cooperation with Booking.com. TravelByBit contributed the search for flights to the overall package.
AVA was launched in May 2018 and is now based on the Binance blockchain. Travellers who pay for their travel with AVA at Travala receive a discount of up to 10 percent. To do so, you need to hold more than 5,000 AVA, which at the current rate of 0.37 US dollars is equivalent to around 1,850 US dollars. Discounts are also available in the loyalty program for smaller balances in AVA, plus monthly bonus payments in AVA. As with Binance Coin (BNB) as the forerunner of discount tokens, a buy-back program is designed to strengthen the price of AVA. With a market capitalization of a good 14 million US dollars, AVA is so far far away from the TOP 100 of the largest crypto currencies, but is already traded on various crypto exchanges.
Conclusion: Crypto-friendly travel is on the rise
Expedia had already accepted Bitcoin as a means of payment once between 2014 and 2018, but abandoned it again. Booking.com does not yet support crypto currencies and has withdrawn from the Facebook Libra project. In this respect Travala.com is currently probably the portal with the largest offer when paying with crypto. It is quite conceivable that AVA will also establish itself in the process, because with Binance behind it, attention is generated.
---
Best place to buy Bitcoin: