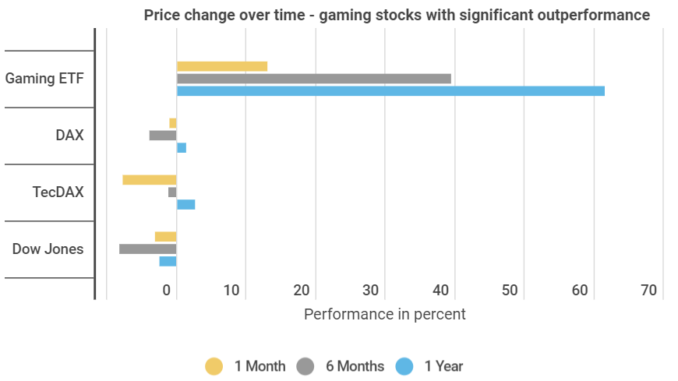 While most industries are struggling with the fallout from the corona pandemic, prices for gaming ETFs have climbed by up to 39,4% in the last 6 months. Over same period, the DAX and Dow Jones have lost 3,7% and 8% respectively. As a new infographic from Block-Builders.de shows, this growth trend is set to continue for the foreseeable future.
A look at the number of gaming apps installed also reveals rapid growth. In March 2020, 37.6 million such applications were downloaded, compared to 21 million in the same month of last year, an increase of around 79%.
However, this upward trend is nothing new. For several years now, listed game companies have been recording considerable growth, which is also reflected in share prices. TakeTwo Interactive, for example, has grown by 401% over the last 5 years, while Activision Blizzard's market value has risen by 194%.
E-sports in the Ascendency in the Gaming Industry
The field of digital sports is also gaining in popularity. Last year, 443 million players tuned in to tournaments, championships and professional player streams. According to forecasts, this figure is expected to rise to around 646 million by 2023. Sales for these formats could increase from 951 million to $1,557 million US in the next 3 years, according to analysts from "Newzoo".
Broad Target Group for Gaming Market
The infographics show that games have long since ceased to be niche products. 34.3 million Germans play games on PCs, consoles, smartphones and/or tablets. Around 52% of these users are male. The age distribution is also relatively heterogeneous. More than 15% of all gamers are now 60 years or older. Anyone looking to invest in gaming shares appears to have some good arguments on their side – overall, the results of the survey suggest that the growth trend still has a long way to go.