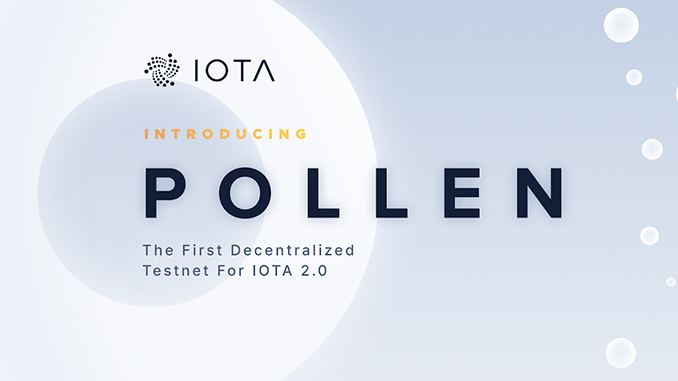 One week after the launch of Testnet Pollen at IOTA, there is a first interim balance: According to this, the decentralized network has been able to handle up to 1,500 actions per second at IOTA and to increase the performance 20 times compared to the previous tangle.
At IOTA, the central coordinator is to be abolished in the coming months and a real, decentralised block chain is to take over the organisation. On July 1st the Testnet Pollen was activated, with which IOTA wants to gain experience. Now IOTA has published on Twitter first findings on pollen, which sound promising. According to this one has observed:
More than 280,000 messages have already been sent between the nodes at Pollen, of which more than 20,000 included financial transactions.
When new nodes connect and synchronize with pollen, speeds of up to 1,500 transactions are measured, IOTA is pleased to report.
The time a message or transfer has to wait for confirmation under pollen is 10 to 12 seconds. This is 20 times faster than in IOTA's previous Mainnet.
To operate a node, only 340 MB of active memory is required on average under pollen and 3.5 percent of the computer capacity is occupied.
Pollen at IOTA as an intermediate step towards Coordicide
IOTA continues to see optimisation possibilities on the part of the software. Especially the requirements of pollen on the hardware encourage that the new decentralized IOTA will also work well on less powerful devices in the future. This is of particular importance for IOTA, as they want to become the ecosystem for the Internet of Things (IoT) and have to integrate even small devices.
On Pollen, Nectar is soon to follow as the next testnet, where IOTA wants to attract developers and users to search for bugs with rewards. The release of Honey is then planned for the first quarter of 2021, which will complete Coordicide and eliminate the much-criticised central coordinator. It was not only in the summer of 2019 that doubts about the practical feasibility of Coordicide led to discussions that left the factual framework.
Conclusion: IOTA on the up
The IOTA course was not helped much by the success of the pollen report. It rose by about 5 percent to just over 0.25 US dollars, but is still far from previous levels. This may also be due to the fact that IOTA has repeatedly been unable to withstand the practice of optimistic forecasts, for example the blatant security gap in the official Trinity Wallet.
Nevertheless, what IOTA has to report on pollen is good news. IOTA has to be measured against the promise of decentralisation, and it seems that pollen has actually made a breakthrough in this area. Realistically, however, difficulties are still to be expected before IOTA is implemented in the Mainnet, but at least for the moment these no longer seem insurmountable.
---
Best place to buy Bitcoin: