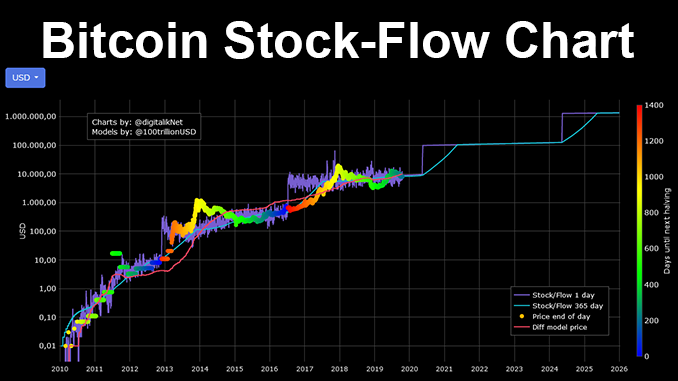 The price of Bitcoin (BTC) has been trading near its all-time high for days. Some believe that Bitcoin is significantly undervalued in this region and argue with the so-called stock-to-flow model. But what is that actually?
The significant price gains of Bitcoin (BTC) in 2020 and the current price of a good 19,000 US dollars means that most investors are already in the black. But while not only the cryptoscene waits for Bitcoin to crack its all-time high of 20,000 US dollars sustainably, also optimistic price forecasts enjoy great popularity again. With stock-to-flow as model for the prognosis of the price of Bitcoin BTC should be actually already now rather with 90.000 US Dollar. But how do you arrive at such values with stock-to-flow?
Stock-to-flow for BTC – not complicated at all
Economic theorists also use stock-to-flow for predicting the price of gold. In doing so, they mathematically relate the following values to each other:
The circulating quantity of a valuable good such as gold or Bitcoin and
the time it would take to double the initial quantity while maintaining the same production capacity.
This results in the index called S2F. For gold, it is calculated at around 60; for Bitcoin, the S2F before halving in May was a good 25. With the Bitcoin Halving, the S2F suddenly increased to a good 50, because the mechanism built into BTC's code halves the quantity of newly mined coins – which automatically shifts the theoretical doubling of the resource's output backwards in time.
This stock-to-flow method has worked quite reliably in the past for gold to predict prices. Applied to Bitcoin, a price of around 90,000 US dollars would actually be expected at present, as the Bayerische Landesbank has calculated.
Some experts use stock-to-flow in addition to the mathematical curve as a model for the development of the importance of Bitcoin. You see four phases:
Bitcoin proves its technological feasibility
BTC is used as an electronic means of payment
Bitcoin is understood as "digital gold" and thus a store of value
BTC becomes a separate asset class
Each of these phases will be followed by a significant jump in price and Bitcoin is currently expected to move between Phase 3 and Phase 4. Around the upcoming Bitcoin Halving in early 2024, Phase 4 would be the dominant theme for BTC and the S2F would eventually exceed that of gold. Then 1 million US dollars as the price per BTC is also logically conceivable, if the theorists are right.
Spectacular bet for S2F at Bitcoin
One person who does not believe in stock-to-flow at BTC is Eric Wall. He not only explains his position in detail, but went a step further. Via Twitter he offered to bet one million US dollars that the stock-to-flow model would not be confirmed in the price of Bitcoin after five years. Apparently Wall found a counterpart and the bet was placed. The deal provides that Wall will now receive 1 million US dollars and in return will transfer a good 52 BTC to his betting partner, which currently represents one million US dollars. The balance sheet is then to be drawn up in 2025 …
https://twitter.com/ercwl/status/1335592430905724931
Conclusion: Stock-to-flow for Bitcoin is not undisputed
The bet already shows: S2F could be too good for Bitcoin to be true. What worked for gold does not have to be 1:1 also for BTC. On the other hand, stock-to-flow is taken seriously as a forecasting tool even among conservative analysts – but usually as one of several. You are not wrong with this approach either: Understand stock-to-flow as a theory that is by no means without alternatives and be happy if it proves to be correct. But never base your optimism about the Bitcoin share price development on a single model, but consider other factors as well. Those look at present well for BTC, six arguments find you here of us.
---
Best place to buy Bitcoin: