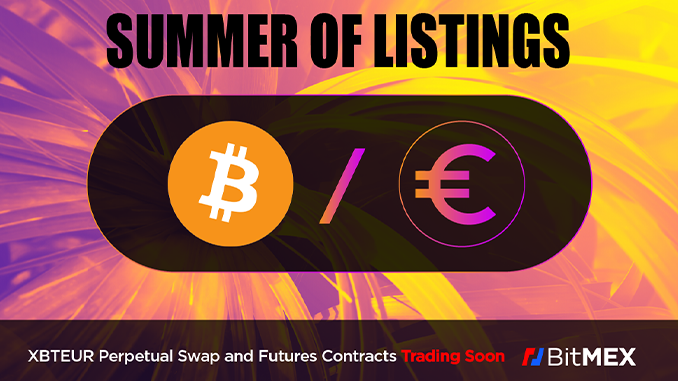 BitMEX has set out to convince with new listings for the summer. Bitcoin futures on the basis of euros are part of this offer, in which BitMEX sees itself as a pioneer among crypto exchanges.
Bitcoin futures have found their way into the traditional financial world at the latest since the end of 2019, because since then they have been traded on the New York Stock Exchange under the project name Bakkt. Leading crypto exchanges such as Binance have also long had Bitcoin futures and related financial instruments in their programs. However, for investors who calculate in euros, all current offers have a disadvantage: with the currently available Bitcoin futures, a currency pair is usually formed against the US dollar. For investments in euros, this brings additional currency fluctuations between the euro and the US dollar into play. The crypto exchange BitMEX is now changing that. According to the announcement, BitMEX will list Bitcoin futures based on euros from Wednesday (June 16).
The new Bitcoin Euro futures at BitMEX come in two versions. Both are designed as "inverse futures", i.e. the price development of Bitcoin is bet on from the perspective of the Euro. The perpetual futures do not have a fixed expiration date. Bitcoin Euro futures can be traded at BitMEX with a leverage of up to 50. The fees are fair at -0.025 percent for maker fees and 0.075 percent for taker fees. Even before the official start of trading, the new BitMEX Bitcoin futures can be tried out on the crypto exchange's testnet. Heads up: At BitMEX, Bitcoin is not listed with the common abbreviation BTC, but runs under XBT for Bitcoin.
BitMEX also lists Solana (SOL) and Filecoin (FIL).
As part of an expansion of its portfolio, BitMEX most recently also listed Filecoin (FIL) and Solana (SOL). Further new listings are to follow this summer. Basically, BitMEX is a crypto exchange aimed at traders with experience and willingness to take risks. But then BitMEX is a good place to trade derivatives based on cryptocurrencies, because sufficient liquidity is ensured. Since December 2020, German Alexander Höptner has been leading the face of BitMEX. Höptner comes from the Stuttgart Stock Exchange and is now serious about making BitMEX more attractive.
Conclusion: Bitcoin Euro Futures at BitMEX
We have listed for you here important differences between trading crypto futures and trading on the spot market. These also apply if you are now interested in the new Bitcoin Euro Futures at BitMEX. The BitMEX testnet offers a good opportunity to approach the topic of Bitcoin futures without risk.