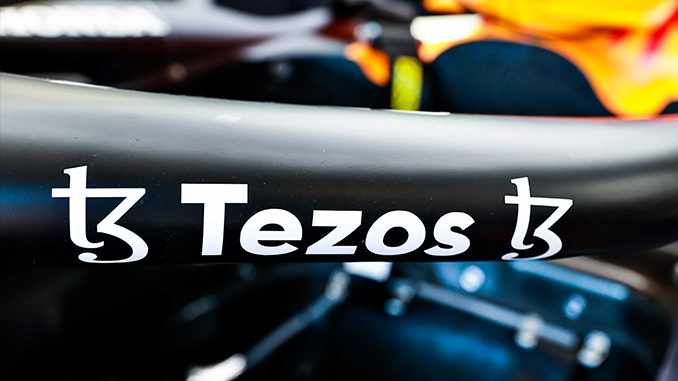 Tezos (XTZ) is now visible in Formula 1 through a partnership with Red Bull Racing. Red Bull's team plans to issue NFTS for fans via Tezos' blockchain.
Tezos (XTZ) is pleased to announce a prestigious collaboration with Red Bull: Formula 1 team Red Bull Honda has selected Tezos as its "official blockchain partner," according to an announcement. The collaboration is set to last several years, it said, and will initially focus on NFTs for fans. Tezos is the most advanced blockchain in the world and is therefore a perfect fit for Formula 1, which is also characterized by innovation.
NFTs are increasingly becoming a highly sought-after offering in the professional sports environment. The tokens, which cannot be changed, usually represent digital fan items, such as trading cards or trophies. Christian Horner, head of the Red Bull Honda team, highlighted the energy efficiency of Tezos. XTZ is based on a blockchain that uses proof-of-stake as its protocol, which requires much less energy than the proof-of-work protocol used by the likes of Bitcoin (BTC) and Ethereum (ETH). When there will be the first NFTs using Tezo's technology at Red Bull Honda in Formula 1 was initially left open. But Red Bull's race cars are already emblazoned with the Tezos logo.
NFTs very successful in the sports world
The cooperation between Tezos and Red Bull is another example of how NFTs and crypto are increasingly finding their place in professional sports. For the US basketball league NBA, NFTs from NBA Top Shot have become a huge success. American football star Tom Brady has founded his own NFT platform. In European soccer, it is fan tokens, mostly organized through Chiliz (CHZ), that are proliferating. There is no end in sight to the trend. Tezos has also already demonstrated its qualities as a technological basis for NFTs to the art world with the platform "Hic et Nunc", which is already considered a competitor to market leader Opensea.
Conclusion: Tezos (XTZ) finds new fields of application
Energy consumption has become an important criterion when companies and industries discover blockchain technology for themselves. Tezos can then rightly point to having relied on proof-of-stake from the start, thus avoiding the energy hunger of proof-of-work. The market for NFTs is currently growing rapidly and Tezos scores there as well. XTZ as a native cryptocurrency in these use cases could therefore have good potential for an above-average positive price curve in the medium term.
---
Best place to buy Bitcoin and Tezos (XTZ):