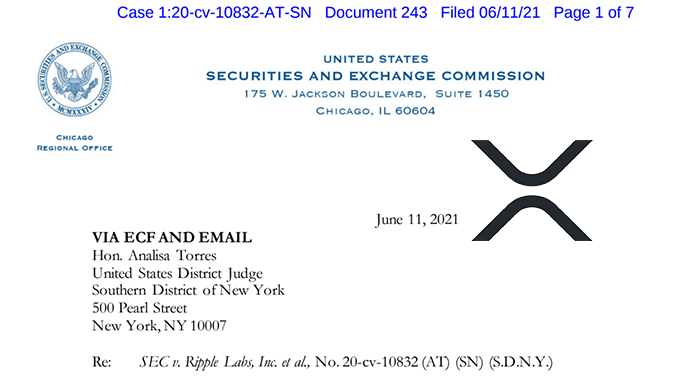 The U.S. Securities and Exchange Commission (SEC) must give Ripple access to internal documents related to XRP, Bitcoin (BTC) and Ethereum (ETH). Ripple hopes this will provide evidence about SEC bias in cryptocurrency matters.
It has been almost half a year since the powerful U.S. Securities and Exchange Commission (SEC) officially initiated proceedings against Ripple (XRP). Since then, Ripple has been in a tough spot in the U.S., with leading crypto exchanges suspending trading in XRP. There is little hope for a quick end to the lawsuit, as recent events show. True, Ripple has won a supposedly important stage victory in its defense strategy. The court has ordered the SEC to disclose internal emails and other documents related to deliberations about XRP. The SEC must further provide related documents on Bitcoin (BTC) and Ethereum (ETH). Ripple believes it can prove, based on such internal assessments by the SEC, that the regulator has double standards when it comes to cryptocurrencies.
After all, while the SEC classifies XRP as securities, it had declared itself to have no jurisdiction over Bitcoin and Ethereum in the past. If it remains the case that XRP was sold without the necessary approval, Ripple faces damage payments of at least 1.3 billion US dollars. No wonder, then, that Ripple is sticking to it: XRP should be treated like BTC and ETH and not regulated by the SEC.
But we will likely have to wait until mid or late August for the documents that could presumably support Ripple's argument. That's because the SEC has asked the court for an extension of time. The filing says tens of thousands of emails would have to be sifted through. In addition, some of them would have to be consulted with former employees in order to properly assess the old documents. This process takes time. Ripple is not exactly thrilled about this and speaks of deliberate process delay by the SEC.
Conclusion: process SEC vs. Ripple will give insight into crypto logic of the Securities and Exchange Commission
For investors in XRP, Ripple's ongoing hang-up in court is more than just a nuisance, as it severely hampers the chances of positive price developments for XRP. Uninvolved observers, however, will be able to cope with the wait. After all, this summer we should get to read in black and white how the SEC internally arrives at decisions on whether to classify a cryptocurrency as subject to approval and threaten issuers with damage payments. The private Crypto Rating Council is also looking into this issue and sees significant risks with Stellar (XLM) and Maker (MKR), for example. Thus, the SEC vs. Ripple process remains a litmus test for many other cryptocurrencies in the US.
---
Best place to buy Bitcoin and XRP: