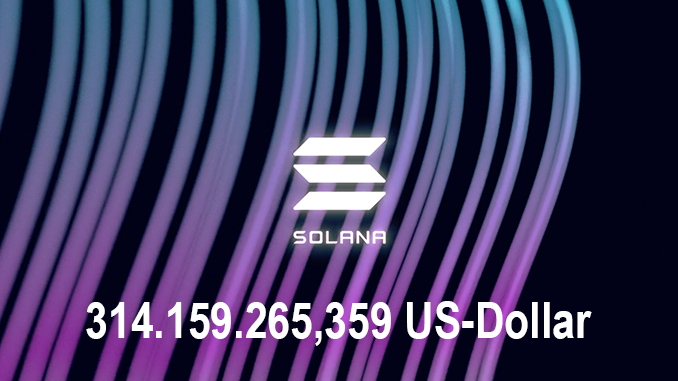 Through a Private Token Sale, Solana (SOL) has closed a funding round of just over $314 million. The money is expected to help rapidly grow the DeFi ecosystem around Solana.
Solana Labs was able to allow itself a joke for insiders during the latest round of funding: with exactly 314,159,265.359 US dollars, a result was achieved that certainly does not map the first eleven digits of Pi by chance. The reference to practically applicable mathematics also represents what Solana (SOL) is proud of. With a unique hybrid blockchain solution, Solana handles 50,000 transactions per second (TPS) and considers itself the most powerful option in the field. This potential is said to be particularly relevant in the DeFi division of the crypto industry and has attracted investors to join SOL on a larger scale. In a press release, Solana Labs lists prominent investment firms Andreessen Horowitz and Polychain Capital among the investors who ponied up to SOL in a private token sale.
Among other things, the capital will be used to create an incubator to support developers who create DApps and platforms under Solana. A separate department for investments in external companies and a trading platform tailored to DeFi under SOL are also among the plans. Anatoly Yakovenko, as CEO of Solana Labs, calls the next goal to attract one billion users to the ecosystem. He sees the development of blockchain solutions at a point like in the 1970s, when computers became commonplace for private individuals.
Solana attacks DeFi market leader Ethereum (ETH).
The Wall Street Journal interprets Solana's funding round and related plans as an attack on DeFi under Ethereum (ETH). There, according to WJS and DeFi Pulse, nearly $60 billion is currently raised in Ethereum for DeFi; at Solana, the ecosystem comes in at just $1 billion, according to the report. However, Ethereum's outdated blockchain under the Proof-of-Work protocol is becoming increasingly apparent as a weakness: With at most 13 TPS and transaction fees in the double-digit dollar range, ETH lags far behind challenger SOL with 50,000 TPS and fractions of cents as transaction fees.
Conclusion: Solana on the offensive in the competition for DeFi.
In crypto year 2021, the competition for dominance is heating up for DeFi ecosystems. DeFi via the Binance Smart Chain and with BNB has already caught up to DeFi on Ethereum in many areas. Now Solana is looking to catch up with all its might and fresh capital behind it. At Polkadot (DOT) and Cardano (ADA), crucial technological development steps are nearing completion. The trend points to what we could see this summer: It is on the verge of more than half of the top ten cryptocurrencies by market capitalization deriving their importance from being widely applied in the DeFi space. This is also where the big investors in SOL see their profit opportunities.
---
You can buy Solana on Binance. Open a Binance Account here and save 10% on fees for a lifetime.