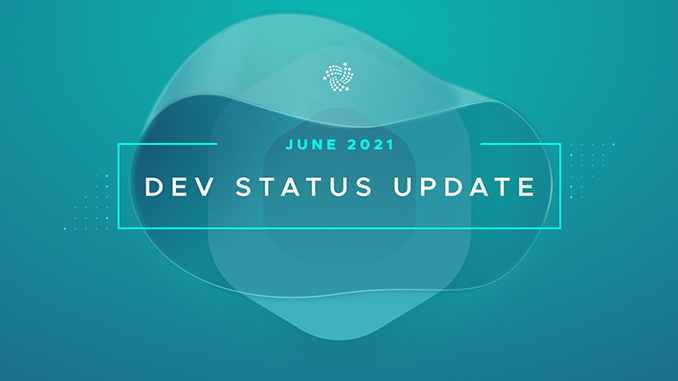 In its June progress report, the IOTA Foundation draws a positive conclusion. But the integration of the Firefly Wallet into Ledger's hardware wallets is still a long time coming, as are mobile versions.
No summer break at the IOTA Foundation: The June monthly report shows progress in the development of IOTA 2.0 aka Coordicide. The good mood is currently officially only clouded by the fact that there are unexpected delays in the provision of the official IOTA wallet Firefly for more platforms than desktop computers. Therefore, they want to increase the team for the Firefly Wallet by three to four employees, they say. We list what is currently being worked on at IOTA and what intermediate statuses have been reached:
IOTA 1.5 aka Chrysalis has been running stably since the end of April and by now 45 percent of all IOTA tokens have been migrated to the new Tanglenet.
With the launch of DevNet (formerly: Nectar) the first public testnet for IOTA 2.0 was launched in early June. Under the project name Coordicide, it is to prepare the intended step towards a decentralized Tanglenet by the end of the year.
In the area of smart contracts, the IOTA Foundation expects to be able to integrate its own protocol and the Ethereum Virtual Machine (EVM) into the DevNet soon.
On the other hand, the widely used hardware wallets Ledger Nano S and Ledger Nano X are still not linkable with the Firefly wallet. Thus, a simple migration of IOTA assets stored on a Ledger hardware wallet towards IOTA 1.5 is not possible. In addition, the promised mobile versions of Firefly Wallet have not yet been delivered and their completion could take time, as evidenced by the staff search for the team.
When it comes to engaging the IOTA community via the Experience Teams, they are pleased to have a dozen or so new members and several contributions that are ripe for publication and could be turned into an IOTA Wiki.
Bottom line: IOTA is looking ahead – investors undecided.
Even here at home, the IOTA Foundation's monthly progress reports are often hotly debated because some things remain vague or are left out entirely. For June, the wait for Firefly in conjunction with Ledger's hardware wallets is a sensitive damper – IOTA is already a good six weeks behind schedule here. Meanwhile, a look at the price trend shows: From levels around $2.0 a month ago, IOTA has lost significantly and is currently trading at around $1.1. But these losses are largely in line with the overall market led by Bitcoin (BTC). Here, IOTA was unable to decouple itself from the trends.
---
Best place to buy Bitcoin and IOTA: