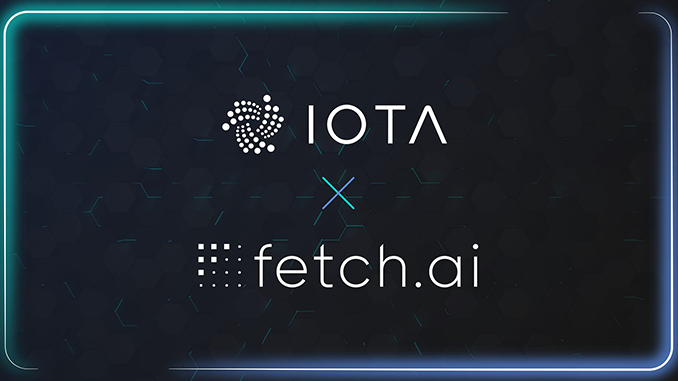 IOTA aims to bring artificial intelligence (AI) to Tanglenet through a collaboration with Fetch.ai (FET). The new partners hope to bring smart solutions to the Internet of Things as well as to the financial sector, for example.
The IOTA session considers itself ripe for further future plans after the implementation of Chrysalis and the launch of DevNet for IOTA 2.0. A new partnership with Fetch.ai (FET) is expected to open up opportunities in this regard, according to a blog post. Fetch.ai's flagship products are so-called "autonomous economic agents" (AEAs). The Cambridge-based project understands this to mean instances that are able to make decisions independently in real time on the basis of AI and predefined rules. Examples of AEAs include trading programs for stock markets that make profits from price fluctuations.
In its blog post on the cooperation with IOTA, Fetach.ai cites examples from the Internet of Things (IoT) where AEAs can score points. In the healthcare or energy sector, for example, AEAs are intended to secure the exchange of information, and the logistics industry is also mentioned as a target group. Technologically, it is envisioned that Fetch.ai will be connected to Tanglenet and will be able to contribute data as well as AEAs. In Tanglenet, in turn, freedom from fees is a plus, as is the integration of IOTA into the IoT, for example with special sensors or pilot projects for smart cities. As a first goal, IOTA and Fetch.ai mention a proof of concept, which should prove that the two different blockchain solutions can really communicate with each other in real time in an automated way.
Fetch.ai and IOTA – does that fit together?
If we take market capitalization as a yardstick, IOTA and FET are two unequal partners meeting. IOTA is currently worth the equivalent of more than 3 billion US dollars, while Fetch.ai is only worth around 230 million US dollars. With FET, Fetacha.i pays for the use of AEAs. But these AEAs have already attracted large companies such as Bosch, Binance, and Deutsche Telekom; they show potential for practical use cases. IOTA, in turn, has a reputation for being deeply embedded in the IoT industry. So there are indeed good opportunities for synergy effects. But the partnership is only at the beginning; it will have to prove itself in practice as technologically possible and economically sensible.
Conclusion: IOTA fuels optimism
Investors are keeping an eye on IOTA for the breakthrough to IOTA 2.0 promised for this year. Because only then, with Coordicide, will a decentralized Tanglenet arrive. The current IOTA 1.5 is afflicted with the central coordinator, which diminishes trust. Fetch.ai's roadmap for 2021 is also filled with a variety of complex plans. So it will have to be seen here how IOTA and Fetch.ai manage their own homework on the one hand and how their ecosystems converge technologically on the other. If this succeeds, the optimism that has been spread will be justified.
---
Best place to buy Bitcoin and IOTA: