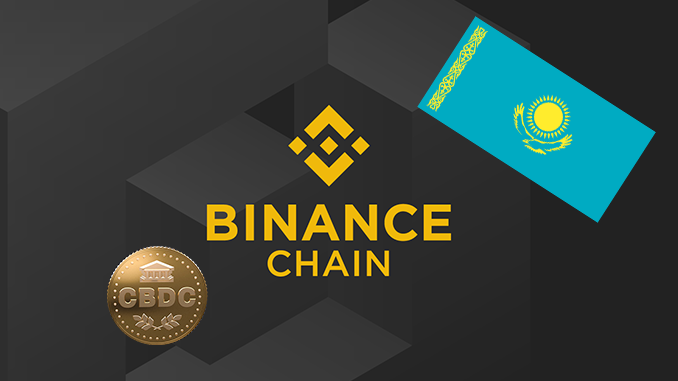 Kazakhstan is considering the introduction of a state digital currency (CBDC) that will mirror the local currency tenge. According to Binance CEO Changpeng Zhao, the BNB Chain is intended to be the technological basis for this.
The topic of state-owned digital currencies (CBDC) such as an e-euro is preoccupying central banks around the world. Crypto companies such as Ripple are sensing an opportunity for their technological solutions to gain traction with CBDCs. Now, Binance is also getting into the competition and has found an interested party in Kazakhstan, which can imagine organizing its planned digital tenge via the BNB Chain. This was announced by Binance CEO Changpeng Zhao on Twitter. CZ followed up a little later and specified the announcement. According to this, the integration of Kazakhstan's future CBDC into the BNB Chain is already a done deal.
In Kazakhstan, with its population of around 19 million, plans for a CBDC are already well advanced. The central bank published a memorandum at the beginning of July, which envisages a final decision on the introduction of the digital tenge by the end of 2022. A closed testing phase with citizens and business is already underway. According to Changpeng Zhao, Binance sees great potential in creating a bridge for the digital tenge to the crypto industry via the BNB Chain. He certainly has in mind the ecosystem around the BNB Chain, where Decentralized Finance (DeFi), blockchain gaming, NFTs, and other innovative use cases are normalcy not offered by the traditional banking system.
Somewhat surprising in CZ's presentation is that Kazakhstan is embracing decentralized technology with BNB Chain, which makes things like freezing or blocking accounts difficult. For in the capital Astana, President Qassym-Shomart Toqaev rules with a hard hand, even sending police officers out with orders to shoot to stop opposition demonstrations in January. Hundreds of deaths and thousands of arrests were the result. The question of how decentralized and anonymous a CBDC should be also plays a fundamental role in discussions, for example, by the European Central Bank on an e-euro. Kazakhstan is apparently willing to soften its control over the future digital tenge with the BNB Chain in exchange for international and promising use cases.
Conclusion: Binance and Kazakhstani CBDC – more than an image issue.
The Binance Coin (BNB) ecosystem would gain a prominent new entrant through a digital tenge as Kazakhstan's CBDC if the deals announced by CZ come true. Kazakhstan, in turn, will benefit from proven technology and new investment opportunities for its citizens in that case. However, Binance must also be prepared for the fact that its mantra of an apolitical stance will then lose credibility.
---