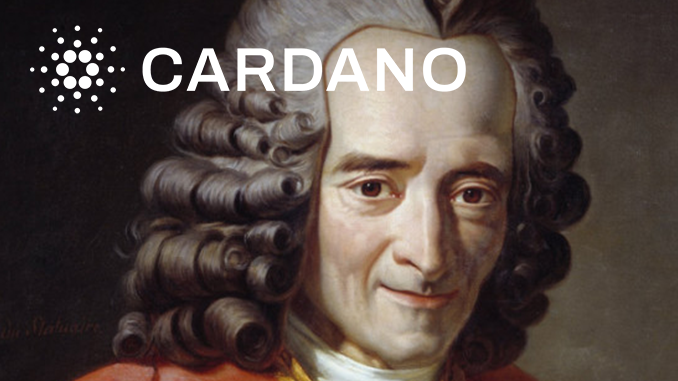 At Cardano (ADA), crypto company Input Output and founder Charles Hoskinson have been the strategic decision-makers so far. As it enters the Voltaire development phase, Cardano is expected to gain self-governance.
Cardano (ADA) passed a major milestone in its development plans in late September with the Vasil upgrade. However, Cardano's price curve does not reflect a sense of optimism even after Vasil – ADA remains at levels below $0.50 and the hoped-for new use cases remain scarce. Nonetheless, founder Charles Hoskinson is publicly going on the offensive, evoking the coming Voltaire era for Cardano via Twitter. At this stage of development, Hoskinson says, ADA's ecosystem will pass into the hands of millions of users and developers, demonstrating to the crypto industry how decentralized leadership works.
To that end, it's important to know: Since its launch in 2017, Cardano has claimed to take a strictly scientific approach to further development and has defined epochs in its timeline, each dominated by a focus topic. The corresponding official roadmap of Cardano places the Voltaire era as the final number five under the title "Administration"; with Vasil, Cardano is moving into the fourth era "Basho" on the topic of scaling. Calling the strategic shots at Cardano since launch have been founder Hoskinson and crypto company Input Output. For example, they decide when an upgrade is ripe for launch on ADA on the mainnet.
Such an approach is not uncommon for other major cryptocurrencies. In order to drive development work forward in a concentrated manner, foundations, founders and/or crypto companies are also assigned the leadership role at Solana (SOL) or Chainlink (LINK), for example. On the other hand, decentralization is the basic principle of Bitcoin and Co. – and a central authority is therefore unpopular. So, by announcing Phase Voltaire for Cardano, Hoskinson also adopts arguments to make ADA more attractive in the medium and long term through advanced decentralization.
From Input Output, there was a blog post in September 2020 that outlined how the Voltaire era might play out once in Cardano's day-to-day operations. The idea was to ensure that revenues from transaction fees would be used to build up a development fund for Cardano. On its use then once ADA investors are to decide themselves by tuning. In order to organize referendums in the future with ADA as a ballot, Cardano has developed an anonymous voting system and is already testing this under the name "Catalyst".
Conclusion: Cardano continues to set itself ambitious goals
Details about the design of crypto-referendums can be argued about; at IOTA, for example, one wants to avoid tight decision results in order to prevent a split in the community. Thus, there will predictably still be a need for discussion on how to concretely regulate self-governance for ADA in the era of Voltaire.
Skeptics, however, will interpret Hoskinson's statements in the direction of wanting to distract from the actual problems at Cardano. Investors are actually waiting for information on when the next planned upgrade, Hydra, will be targeted – which is not yet part of the Voltaire era. This is because Cardano still has some catching up to do in terms of scalability and high-performance smart contracts in order to sustainably kick-start the expansion of the ecosystem. For the time being, this challenge will shape the ADA price curve much more than a planned revolution in the ecosystem's decision-making structure.
---