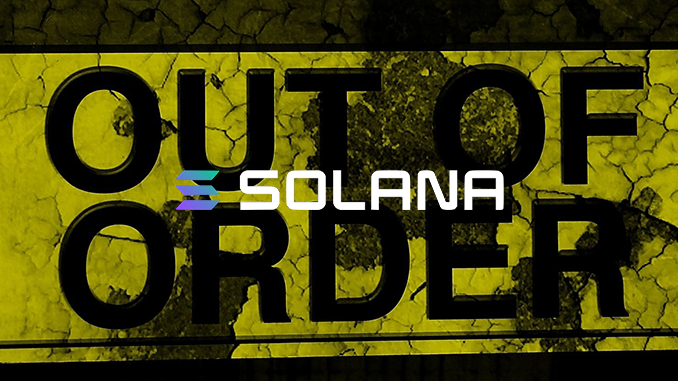 Solana (SOL) was non-functional for around seven hours due to technological dropouts. Recurring network problems are just one criticism of the alleged "Ethereum killer".
Solana (SOL) once again surprised investors, developers and the expert public in a negative way over the weekend: Via Twitter, people had to report a network outage at Solana and only a reboot around seven hours later got the ecosystem up and running again. Network outages at SOL have already become a popular topic of ridicule and scorn for bystanders in the crypto scene – last year alone, Solana was down for hours on eight occasions without notice. The most recent blackout was later explained as a result of a single node (network point) generating incorrect blocks and then other network points getting tangled up in trying to correctly update the blockchain.
But critics like Justin Bons don't want to be fobbed off with more excuses and appeasement from Solana. Bons is founder and chief executive at crypto fund Cybercapital and has been scrutinizing pluses and minuses in leading cryptocurrencies from an expert perspective for nearly a decade. In the matter of Solana, his collar now burst, as his comments on SOL on Twitter make abundantly clear. Total network failures at Solana are, in Bon's view, caused by fundamental design flaws and the way out through reboots demonstrates how centralized the network really is. This objection was heard just over a year ago, when Solana went down for nearly 20 hours in the middle of a boom period. From a technological point of view, a blockchain should by no means switch off in the event of an overload, but rather process piled-up orders with a delay. A restart, for which the majority of network points must specifically agree, also requires the blockchain to be updated from a status that nodes and Solana Foundation alone determine in the short term.
Bons also sees a lack of decentralization at Solana and the mounting network outages as a sign of what else is wrong with SOL. He points to the wallet hack in August, which was due to Solana wallets not being open-source and therefore more vulnerable to hacks. Bons also finds such incomprehensible carelessness in the developer forum for Solana, where potential security issues are reported but not addressed.
Solana misrepresented DeFi revenue and token distribution info
Bons picks out three more details from Solana's fledgling history that should at least make critical investors think. For example, Solana knowingly made false statements about the total amount and distribution of tokens at the launch in April 2020 and only corrected them when research revealed the fraud. Solana was also misleading when it came to statements about technological performance inefficiencies because internal data blocks were also counted when calculating transactions per second (TPS), but these did not contain a transaction per se. And then there was the case of two SOL developers who deliberately manipulated the volume of DeFi under Solana with tricks. At times, up to 70 percent of the TVL for DeFi under Solana was simply fake due to repeated double counting, Bons writes.
In the conclusion, Bons comes to the conclusion that Solana as a supposed "Ethereum killer" is completely overrated and that the problems extend to fraud, lies and hacks. We already summarized earlier this year why Solana has more than just an image problem – and can add the unhealthy concentration of large investors (Whales) at SOL to the points Bons cites.
Solana co-founder Anatoly Yakovenko wants little to do with such criticism and has recently said that network failures are a natural "curse" or "plague" ("Kurse") on blockchains. Bitcoin (BTC) and Ethereum (ETH) have also experienced such situations, Yakovenko claimed – but this is simply not true.
Conclusion: Solana overrated? Image of SOL has received deep scratches
Solana has established itself in the top ten most capitalized cryptocurrencies and continues to play a leading role in the DeFi division. Network outages directly affect day-to-day operations with SOL, as no transactions are possible then. But when one looks more closely, as Bons and other critics do, at how Solana is organized in the background, other worrying details also emerge. When Solana was rushing from one all-time high to the next in good times, investors often brushed such concerns aside. But it now seems necessary to at least reconsider Solana's valuation.
---