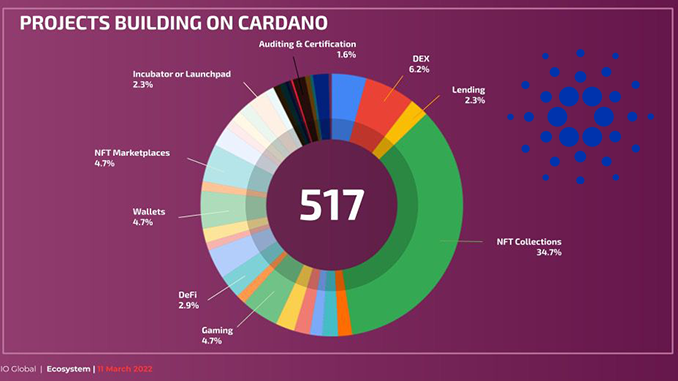 Despite weak share price development, the creators of Cardano (ADA) are spreading optimism. In the past four weeks, 100,000 new wallets and 400 new projects are said to have proven Cardano's appeal.
For many investors, Cardano (ADA) has become a problem child due to weak price performance in recent months. Criticism of unfulfilled promises by Cardano founder Charles Hoskinson and Input Output as the crypto company behind ADA is mounting. But at headquarters, positive news continues to be preferred. Input Output currently points via Twitter to 900 projects working on their debuts using Cardano as a base. A month ago, Tim Harrison, the person responsible for cooperation at Input Output, counted only 500 such promising initiatives via his LinkedIn account.
In parallel, Charles Hoskinso also spoke up with a "we're just getting started" and retweeted the information that 100,000 new wallets were created on Cardano over the last month. Blockchain data indicates that there are now nearly 3.3 million total wallets registered for ADA, proving continued growing interest in Cardano in this discipline.
There are reasons for Cardano's lack of momentum
The downward price trend in ADA began in September 2021, when it became clear that the Alonzo upgrade did not bring the announced DeFi capability to Cardano. Taking DeFiLlama's numbers as a benchmark, as many analysts do, just six DeFi projects are attracting DeFi capital under Cardano, and together they reach a volume of about $220 million – for the DeFi division these amounts are to be booked under "far from it". Here, too, Cardano has already experienced somewhat better times, but projects such as SundaeSwap, which were launched with advance praise, never really got off the ground. Even in the growth area of NFTs, Cardano is not moving from the spot and on some trading days cannot even record 1,000 US dollars in sales.
Conclusion: ADA must hope for upcoming upgrades
The economic gloom at Cardano is countered by Input Output and Hoskinson's selected data, the significance of which is debatable. Neutral observers prefer to point to the announced upgrades Vasil and Hydra, which, according to the current timetable, will be added to Cardano in June and October 2022. This should allow ADA's blockchain to process more transactions per second (TPS) and also make smart contracts more flexible for DeFi. For now, though, this is pie in the sky, and the crypto scene is already used to some grandstanding from Hoskinson in particular that doesn't stand up to a reality check.
---
Best place to buy Bitcoin and Cardano (ADA):