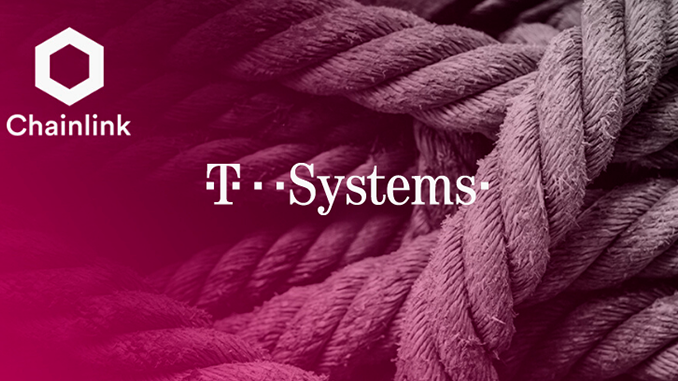 T-Systems Multimedia Solutions, a subsidiary of Deutsche Telekom, is taking responsibility for a node in the Chainlink (LINK) ecosystem. This is an important step towards establishing block chain technology for a wide range of applications in the digitalized global economy.
Chainlink (LINK) is one of the big winners of the crypto year 2020. Since the beginning of the year, the share price has risen from around USD 2 to currently just under USD 8, an increase of more than 300 percent. LINK has thus also secured a place in the top ten most important crypto currencies in terms of market capitalisation. Deutsche Telekom is now committed to Chainlink through its subsidiary T-Systems Multimedia Solutions (T-Systems MMS) and has announced in a press release that it will operate there as a node operator in future. Chainlink itself welcomed the decision via tweet and spoke of being "enthusiastic".
Background on T-Systems MMS at Chainlink
T-Systems MMS positions itself as a service provider for medium-sized and large companies in the transformation towards digital business models. With around 2,100 employees, T-Systems MMS 2019 is reported to have managed a good 2,900 projects and generated revenues of USD 176 million in 2019.
Chainlink is considered one of the most important pioneers in the DeFi division and makes it possible to integrate real-time data from external sources via an API in Smart Contracts and DApps. LINk serves as a means of payment in this ecosystem. In 2020, for example, Chainlink announced its partnership with Nexo, a provider of crypto-credits. Nexo obtains market prices of crypto currencies automatically via Chainlink. Google and Oracle are also among Chainlink's users and data suppliers.
T-Systems MMS sees its node at Chainlink primarily as a technological service, with which the block chain of LINK becomes more stable and more powerful through the infrastructure of Telekom. Profits are to be generated by the usual fees for the validation of actions at Chainlink in LINK. Staking is also planned for the future. T-Systems MMS emphasizes that the involvement in Chainlink is the first case of participating in a public block chain. Deutsche Telekom, as Europe's largest telecommunications group, has a seat on the board of directors of Hedera Hasgraph (HBAR), among others, and also participates in projects with the IOTA Foundation.
Conclusion: Chainlink wins the trust of major companies
Chainlink and thus LINK score points by being able to report in high frequency on cooperations on use cases from the digital economy. Whether a decentralised VPN service like that of Orchid or even the ecosystem of Tezos (XTZ) – everywhere the powerful API of Chainlink is in demand. The entry of T-Systems MMS boosted LINK's share price, and since the news was announced, LINK has grown by almost 8 percent, clearly outperforming the overall market.
---
Best place to buy Bitcoin: