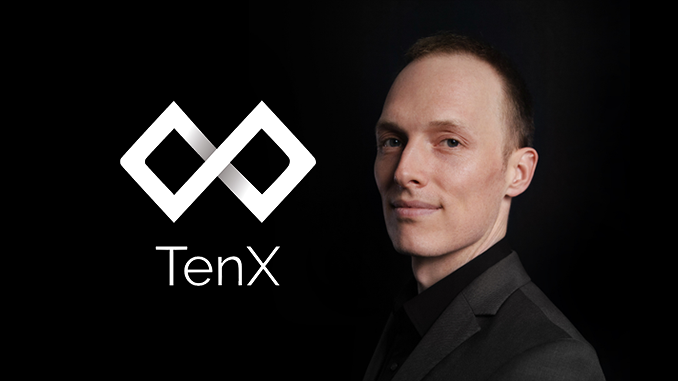 Since May, rumours have persisted that personnel changes in the management level are imminent at TenX. Now it has been officially confirmed that Claude Eguienta from Telcoin will take over as CEO at TenX. His predecessor Toby Hoenisch will become Chief Financial Officer.
TenX has become known in the crypto scene as a provider of crypto credit cards. Since its founding in 2015, Toby Hoenisch has led TenX as CEO. Hoenisch is now moving to the position of Chief Financial Officer, as TenX announced. His successor as CEO will be Claude Eguienta, who comes from Telcoin. Rumors had already been circulating in May that TenX was undergoing drastic personnel changes.
Background on the personnel carousel at TenX
The Austrian Toby Hoenisch was one of the co-founders of TenX and remains Chairman of the Executive Board in addition to his new role as Chief Financial Officer. TenX started with the idea of operating as a crypto-bank and has been concentrating on offering "real" Kyoto credit cards for some time. However, the start was rather bumpy, with a credit card expected for 2017 only coming onto the market for a short time due to problems with an external financial service provider. Only at the turn of the year 2019/20 did TenX find a replacement with a Wirecard subsidiary and launch its crypto credit cards in Germany and Austria as well.
Claude Eguienta is a new member of TenX. The Frenchman is co-founder of Telcoin, a block chain project for simple international money transfers with the help of telecommunications companies. However, the associated crypto currency TEL has remained a niche product. According to TenX, Eguienta has gained experience working with regulators at Telcoin and has proven that he is capable of organizing international licenses. What TenX lacks is the fact that its credit cards have so far only been offered in Germany and Austria in Europe, and also in some Asian countries.
For a long time, crypto-guru Julian Hosp was in the public eye for TenX. But Hosp was fired in early 2019, partly because of his past involvement in the Lyoness pyramid system.
Conclusion: TenX once again with a new beginning
It is felt that the new TenX CEO Claude Eguienta is another new start. The start-up is quite unique with its concept of a hybrid credit card that integrates both Fiat and leading crypto currencies like Bitcoin. But TenX's latest transparency report does not include any information on the number of customers and turnover, even on the company's fifth anniversary. Rather vaguely, it says that the company has increased its customer base by 400 percent compared to the first quarter of 2020, but from low numbers this does not mean much. The temporary blocking of TenX credit cards in the wake of the insolvency of Wirecard demonstrated how dependent TenX is on cooperation partners. In addition to approval in considerably more countries than before, it will be important for TenX to either obtain a banking license itself or find reliable partners.
---
Wer noch keine Bitcoins hat kann diese hier kaufen: